Image: Erik Olin Wright with teaching assistants in 2010, including João Alexandre Peschanski, far left. All rights reserved.
As an undergraduate student, João Alexandre Peschanski had read several scholarly works by Dr. Erik Olin Wright, but he'd never met him. That changed in 2008, when João, who is from Brazil, was contemplating which Ph.D. program in sociology he wanted to attend in the United States. Erik called João, and the two immediately hit it off. João decided to attend the University of Wisconsin-Madison Department of Sociology to study under Erik's tutelage. Little did he know Erik would not only expand his sociological horizons, but introduce him to the world of Wikipedia.
At the time, Erik was president of the American Sociological Association (ASA), and in 2011, he made a call to duty to improve Wikipedia, joining with what was then a fledgling program that today is Wiki Education's Wikipedia Student Program. Erik didn't just encourage other sociologists to teach with Wikipedia, he also embraced it in his own course. João was a student in that course ten years ago.
"Erik was fascinated by Wikipedia. Really! He talked about it all the time," João says. "I was not so impressed at the beginning, which is funny now as I have become a strongly committed Wikimedian. It sounded like a nice experiment, sure, but I wondered: why would I want to write on topics I knew a lot with people I did not know and who knew much less if anything about these topics? It did not sound right."
A Wikipedia volunteer, User:Daniel Simanek, came to speak to João and other students in the class, teaching them the basics of editing. João — as User:Joalpe — used this knowledge to make his first edits to Wikipedia, on the article about the 2011 protests in Wisconsin's capitol, collaborating with fellow graduate student Michael Billeaux. (João also wrote a paper about the protests with Erik.) For his class assignment, he also added a couple of paragraphs about electoral dilemmas to leftist parties based on the theory of Adam Przeworski.
"I wish I could say editing Wikipedia led to an immediate change in my life — yet this would not be true," João reflects today. "After this experience in 2011, I basically forgot about it. I thought it was funny, and I was a bit scared about how easy it was. I was scared people would end up changing what I had written. It is quite impressive to see my first edits on English Wikipedia are still there, ten years later."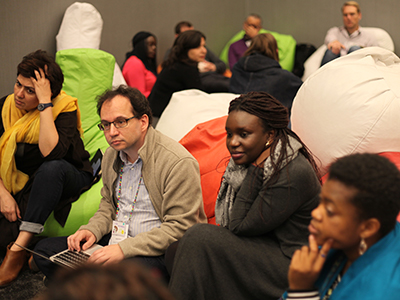 In 2014, João, now a professor himself in Brazil, decided he would teach with Wikipedia, asking his students to improve content on the Brazilian dictatorship and create content on the killed and disappeared in the authoritarian regime. (João also co-authored an article on this experience with undergraduates who had been involved in the project, including Marília Carrera, who is now projects manager of the Brazilian Wikimedia affiliate Wiki Movimento Brasil.) Since then, he's become way more involved, editing tens of thousands of articles across the Portuguese, French, and English Wikipedias as well as Wikidata and Wikimedia Commons. He's also integrated Wikipedia assignments into dozens of courses, introducing more than 4,000 students to editing Wikipedia, and has leadership roles in two Wikimedia affiliates: Wiki Movimento Brasil and the Wikipedia & Education User Group.
"I have edited a lot, but what I like the most is to support people doing their first edits," he says. "It feels like I am sharing power."
That sharing power element directly ties back to Erik's vision. Erik passed away in 2019, but João sees his work as continuing Erik's legacy.
"Everything I do in academia and in community organizing is a tribute to Erik. And I miss him a lot," João says. In the last decade of his career, Erik had started investigating what he called "real utopias" — socialist experiments within a dominant capitalist society, such as participatory budgeting, universal basic income, and, of course, Wikipedia. João assigns every one of his students to both edit Wikipedia and read one of Erik's pieces, usually about Wikipedia. More recently, he's assigned Erik's final book, How to be an Anti-capitalist for the 21st Century, which includes a section on Wikipedia.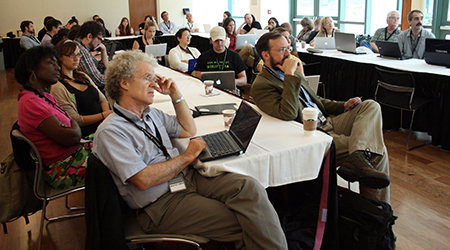 Erik's call to duty on behalf of ASA led directly to Wiki Education's partnership with the academic association, which is still thriving ten years later, with nearly 200 courses in the U.S. and Canada having taught with Wikipedia thanks to his vision. João also took inspiration from Erik's call and convinced his colleagues at a prestigious research lab in São Paulo, called NeuroMat, to launch a Wikipedia Initiative. The launching document was, in homage to Erik's ASA piece, "A call to duty: NeuroMat and the Wikipedia Initiative". The growth of the Wikipedia Education Program from its humble beginnings when Erik helped launch it into national and international prominence has been incredible.
"It is truly amazing how Erik saw this coming," João reflects. "I am really honored to have carried on his vision as I got more and more involved with the Wikimedia movement throughout the years."
As João's advisor, Erik played a large role in shaping his academic trajectory, but João also credits other Madison professors, including Gay Seidman, Mara Loveman, Boaventura de Sousa Santos, Ivan Ermakoff, and Myra Marx Ferree, and fellow graduate students Tatiana Alfonso, Rodolfo Elbert, David Calnistky, Matías Cociña, Alex Hanna and Elizabeth Wrigley-Field, among others, for helping him engage in Erik's sociological vision. He's also been inspired by the global community of Wikipedia and Education leaders, whose work is highlighted in the This Month in Education newsletter. He's thankful for the resources that have been developed to support faculty who teach with Wikipedia around the world; the wikitext course page Erik used for João's class has now been replaced by the Dashboard. And João is intrigued by Wikimedia projects beyond Wikipedia; he's currently working on projects with Wikibooks, Wikiversity, Wikimedia Commons, and Wikidata.
"I talked to Erik a couple of days before he passed away, and in this final moment I explained to him what Wikidata was," João says. "He was thrilled, and we had plans to write a paper on Wikipedia, Wikidata, and Digital Utopias. I might do it someday!"
Image credits: Hero image courtesy João Alexandre Peschanski, All Rights Reserved; Tinaral, CC BY-SA 4.0, via Wikimedia Commons; Sage Ross, CC BY-SA 3.0, via Wikimedia Commons