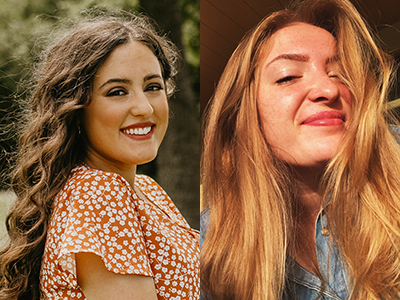 Raeleigh Evans and Eden Jones are both students at Brigham Young University who — due to the pandemic — have never actually met in person. But in fall 2020, they collaborated together to create a brand-new Wikipedia article on the Code of Indian Offenses, a 1883 legislation that restricted religious and cultural ceremonies of Native Americans. Raeleigh, a freshman psychology major from Conroe, Texas, and Eden, a sophomore political science major from Livingston, Montana, both took a class taught by David-James Gonzales on the history of the United States since 1877. Part of the course readings was the book The Heartbeat of Wounded Knee, by David Truer, in which the Code of Indian Offenses was described. Neither had ever heard of it before.
"I was pretty shocked that a topic of which I thought was so important to Native American history and the hardships they faced, was so difficult to find; almost like it did not exist," Raeleigh says. "This Code was a huge part of the United States' stripping Natives of their true culture, and it was also something that I had never learned of before, and obviously, the internet had not either. We both agreed that this was something that needed to be discussed and have information on that was easily accessible."
Eden agrees: "One of the biggest things I learned over the course of this class is that so much of the standard American history education is the history of the white man," she says. "We wanted to change that, and that was a big consideration we had when we set out to choose an article topic. David Treuer has a whole chapter devoted to the Code of Indian Offenses in his book, and when I first read it, I remember thinking, 'WHY didn't I know about this before?' It was blatantly unconstitutional and very deeply affected life for Native Americans on the reservations. As soon as we started Googling, we knew we wanted to write about it because there was very little information available on the Internet outside of scholarly articles and academic papers. We wanted to raise awareness about this part of American history, and we wanted to make it available to the common man."
Dr. Gonzales' course was participating in Wiki Education's Wikipedia Student Program, meaning Raeleigh and Eden had access to training materials and experienced Wikipedian staff support as they navigated writing a Wikipedia article for the first time. Eden admits she was intimidated at first, since what she was producing would be available for anyone to read on the internet. Raeleigh says she was confused, having only heard negative perspectives about Wikipedia from middle and high school teachers.
"While writing this article I learned, first and foremost, how much true research goes behind every article on Wikipedia. These articles are not something that can be slapped together at the very last minute, but instead takes countless hours of research, reading formatting, and writing," Raeleigh says. "I wish more people understood this and would realize how accurate and useful Wikipedia is."
Aside from changing her perspective on Wikipedia, Raeleigh says the process of finding sources for her topic honed her research skills. And learning to write in a neutral manner that relays information rather than makes an argument is something she says she gained from the assignment. But both student editors reflected that the assignment also helped them learn about an important chapter of United States history that is often ignored.
"The more we researched, the more I understood the extent to which this period of United States history simply isn't talked about," Eden says. "I had no idea that cultural assimilation for Native Americans was such a huge push throughout American history. It was deeply saddening to me to learn that so much of Native American culture was quite simply outlawed."
The Wikipedia assignment, Raeleigh says, "helped me understand how important it is to not hide the past. I was shocked that my topic was so difficult to find sources for, and I believe that our article will benefit Wikipedia and the public by being an easily accessible source that many will learn from."
Both also acknowledged it was fun to build the article collaboratively in a sandbox, move it live, and then see it appear on Google when they searched. Throughout the assignment, they collaborated by phone and Zoom ("It seemed like we were texting each other right up until the deadline saying things like 'guess what I just found!' or 'you'll never believe this!'" Eden says.) But both acknowledge a particular challenge for this article was identifying numerous sources that reflected a Native American perspective on the legislation.
"One of the biggest regrets I had as we were pulling this together was that we weren't able to collaborate with anyone Native American," Eden says. "It didn't feel quite right to be representing these people without having lived some of their experiences. We used Native American perspectives wherever we could, but my hope is that someday someone will be able to edit this article who has a Native American perspective and who can perhaps correct any mistakes we may have made or eliminate any cultural insensitivities we may have unknowingly perpetrated."
Raeleigh says she's already logged back in to Wikipedia a few times, looking over their article to identify additional changes. "It is really cool knowing I can edit other articles and continue to help put knowledge and information out there," she says.
Hero image: National Photo Company Collection, Public domain, via Wikimedia Commons