This fall, we're celebrating the 10th anniversary of the Wikipedia Student Program with a series of blog posts telling the story of the program in the United States and Canada.
I was reflecting on how Wikipedia's gender gap has changed over the past 10 years when I heard the news that Supreme Court Justice Ruth Bader Ginsburg had passed away. It was sort of apropos, as I think Justice Ginsburg's fight against discrimination on the basis of sex resonates with those of us who have spent 10 or even 20 years (almost!) fighting for better gender representation on Wikipedia.
Like the broader fight for gender equity in the United States, it can feel especially degrading to read constantly about the poor state of gender parity on Wikipedia, especially when you know so many people working hard to bring women's voices and knowledge to the masses through the encyclopedia. Over the last few years, journalists have written about Wikipedia's egregious gender gap in the New York Times, The Atlantic, Ms. Magazine, the Washington Post, and so many other media outlets. The story is usually the same: English Wikipedia's volunteer editors largely (at least 85%!) identify as men; women experience bad harassment when they try to participate; where are all the women?! And occasionally, you get an inspirational anecdote about one person or group working to upend the gender imbalance on Wikipedia.
None of this is inaccurate. As far as we know, our community hasn't made major progress in attracting more regular editors who identify as women over the last 10 years, at least not in a way that begins to ensure women's history is even close to being "complete." With the barrage of reporting on Wikipedia's gender gap, it's easy to think we've made no progress over the last 10 years. But for those of us in the community, who constantly critically evaluate Wikipedia content, processes, and editors, we know there have been some inspirational leaps forward to make this website more representative of human knowledge. And like Notorious RBG's many victories for human rights, we have so many successes to celebrate, and I don't think we talk about them enough. Now that we have run our flagship program for 10 years, I'd like to highlight some major successes, both from within the general Wikipedia community and from Wiki Education's program participants.
First: What is the Wikipedia gender gap?
According to various studies, only 9–16% of Wikipedia's editors identify as women. In 2011, the Wikimedia Foundation—the non-profit that powers Wikipedia—set a lofty goal for its 5-year strategy: increase participation on Wikipedia to 25% women. Spoiler alert: we're still not there, nearly a decade later. But our community has embraced that the gender gap is, in fact, a problem, and several people, groups, and organizations have taken the initiative to build a more inclusive encyclopedia.
Student editors help close the gender gap
One of the most powerful aspects of our Student Program, which we've been running for 10 years, is that Wikipedia assignments bring new editors who may never have contributed content on their own. In the spring 2020 term, roughly 60% of our students identified as women. Of the 7,500 students we supported, that means approximately 4,500 women came to Wikipedia over a four-month span thanks to their instructors' choice to incorporate a Wikipedia assignment into their curriculum. While they may not have come of their own volition, they quickly learned how much they have to offer thanks to their studies, their lived experiences, and their access to academic publications through the university library.
And of course what makes this so important is not just that they participated in building Wikipedia but what knowledge they shared with millions of readers. Take Dr. Nadine Changfoot's fall 2019 student at Trent University in Ontario, who expanded the article about reproductive justice. This student added a section about coerced sterilizations of Indigenous women in Canada, which happened as recently as 2018 but was not previously covered on a page that skews heavily toward the United States. Approximately 2,000 readers access that article each month, and thanks to this student, they now have a more global understanding of reproductive justice and injustice.
Another student in Dr. Jo Ann Griffin's fall 2019 course at the University of Louisville worked on the article about transgender health care. Specifically, they added a section about mental health, citing studies reporting high suicide rates in the transgender community. Perhaps more importantly, they cited reports that mental health struggles decrease when transgender individuals transition—either socially and/or medically—to their identified gender. This information about mental health problems (and potential solutions!) was previously missing from a page that reaches 1,500 readers per month. Some of those readers are likely transgender themselves, and I'm incredibly proud that one of our students had the opportunity to summarize and share this scientific literature with the world thanks to their university assignment.
Our community is better thanks to community organizing
If you are new to Wikipedia, you may not know that we consider ourselves a community. I've spoken with thousands of people over the years about Wikipedia, and I feel like I've heard it all: Where does content come from?; So who approves changes?; Are Wikipedia pages imported from other encyclopedias? But our incredible community of volunteers makes the entire project possible, including more than 6 million articles on English Wikipedia alone. So how does a relatively small percentage of the population keep it up? Largely through community organizing—either on-wiki or offline.
Over the last 10 years, we've seen a ton of community groups form to help curb Wikipedia's gender gap. In July 2015, a small group of Wikipedians founded Women in Red after assessing Wikipedia's biographies (anyone from scientists to musicians to cricket players) and realizing only 15.53% of the total biographies were of women. This group has grown to hundreds of active members who work each day to recognize women and their achievements. We've seen the percentage of women's biographies increase to 18.58%, and, as I like to joke, that's without mass deleting biographies of men. This dedicated group of volunteers builds lists of missing women, creates new biographies, runs virtual and in-person events, lends a helping hand to new editors like our students, and presents at Wikipedia conferences to raise awareness about their project and the need to add more women into the encyclopedia.
A like-minded group, Art + Feminism, launched a campaign in 2014 to add women artists to Wikipedia during community-led edit-a-thons (events where experienced Wikipedians guide newbies through their first contributions). Their initiative has expanded into a non-profit organization that works to counter the gender gap in the arts on Wikipedia, and their participants have improved more than 84,000 biographies on various language Wikipedias, Wikidata, and other ally projects.
Another group that emerged in 2015, AfroCROWD, regularly hosts edit-a-thons in partnership with GLAM institutions to add Black culture and history to Wikipedia. I'd be remiss to ignore how intersectional feminism is and that, for example, in order to support women on Wikipedia, one must support Black women on Wikipedia. The editors at AfroCROWD have done phenomenal work over the past 5 years not only to raise awareness about content gaps on Wikipedia, but to facilitate as experienced and new editors work to close those content gaps.
These are just a few of the groups working hard to make Wikipedia more representative of the sum of all human knowledge, and it's one of the most impactful changes we've seen to the gender gap over the past decade. Wikipedia is only as good as its community members, and its community only becomes more inclusive as it reaches out a purposeful hand to guide new editors excited to lend their voice to our projects.
Strategic partnerships and targeted content
One of the approaches to diversifying Wikipedia that we've taken at Wiki Education is to form strategic partnerships. In 2014, we partnered with the National Women's Studies Association (NWSA) to launch a Wikipedia initiative for their members, who teach in Women and Gender Studies (WGS) departments in colleges and universities. At this time, NWSA actively asked their members to use Wikipedia as a teaching tool, and they regularly gave Wiki Education a platform to share why this experience is so meaningful to students. We have since supported more than 400 WGS courses with nearly 9,000 students in our Student Program. They've added a staggering 6 million words to Wikipedia, or more than 4 volumes of the last print edition of Encyclopedia Britannica. Students in these courses have shared knowledge with the world about so many topics related to gender and intersectional feminism: from disability studies, to LGBT rights in Nepal, to Black feminism, to countless biographies of notable women.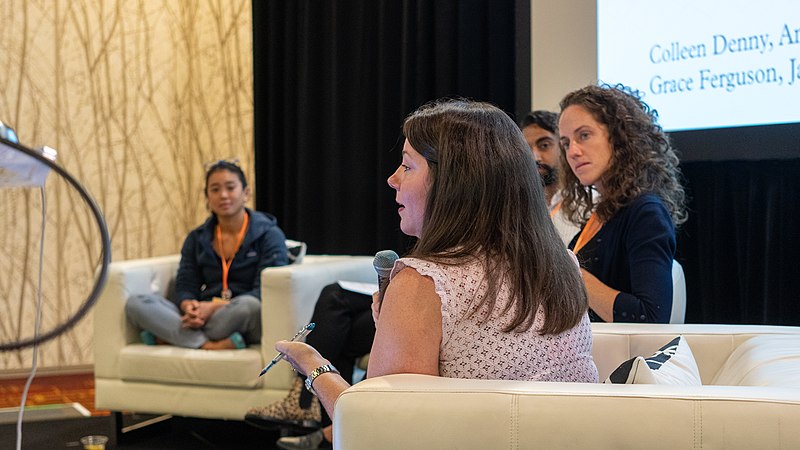 And for Wiki Education, as so much has changed over the last decade, one of the most significant is the way we partner with mission-aligned institutions. Now, with our Scholars & Scientists program, we're able to partner with institutions who are eager to improve a specific topic area and directly train their members, faculty, or other stakeholders how to lend their expertise to relevant topics. Thanks to this program, we've partnered with the Society of Family Planning to train more than 40 medical practitioners and scholars how to fill in content gaps on Wikipedia related to women's health. This work has given the public better access to information about women's health in Uganda, telehealth and medical abortion access during a pandemic, and tubal ligation and other common medical procedures.
Through our collaboration with the National Archives and Records Administration (NARA), we facilitated as historians and archivists rewrote the Wikipedia article about the 19th Amendment. Before these scholars got to work as a part of our course, the article documenting the Nineteenth Amendment, which prohibited governments from discriminating against voters on the basis of sex, not only centered the narrative on white people, but on white men. The Wiki Scholars added crucial information about how this amendment did not enfranchise women of color. We're so grateful for the opportunity to work with subject-matter experts who are eager to join the Wikipedia community but are not ready to do so on their own.
The next 10 years
2030 has been a hot topic in the Wikipedia community for the last several years, as our global community has worked together to envision what our projects might look like in 2030. I'm certain we'll have made progress in ways I can't even imagine at this stage. What I can imagine is that we'll finally make changes within the community that will invite more women, non-binary people, and other currently underrepresented groups to participate, both in knowledge production and as subjects of Wikipedia articles. I envision an encyclopedia more inclusive of oral histories and less restrictive of notability. One that treasures educators as much as military leaders. I'm certain university students will still be finding and fixing missing, inaccurate, or misrepresented information, and our community will still work best when organizing to make Wikipedia and the world a better place. I'm hopeful we'll create systems outside of Wikipedia that better support women, creating more "free time" to build an encyclopedia. When I'm asked when there will be enough women on Wikipedia, and my answer is "when there are 90% women editors," people are shocked. But there'd been 90% men, and it took a decade for anyone to ever raise a question about that.* **
* Adapted from Ruth Bader Ginsburg's famous quote about the gender imbalance of the Supreme Court.
** This is a joke.