This fall, we're celebrating the 10th anniversary of the Wikipedia Education Program with a series of blog posts telling the story of the program in the United States and Canada.
Since its inception in 2010, the program now known as the Wikipedia Student Program has added 66 million words to 90,000 articles. In 2018 the program hit the milestone of having added as many words as the final print issue of Encyclopedia Britannica — a total of 44 million words. Two years later, we're at 1.5 Britannicas. In a decade in which the pool of active contributors to Wikipedia declined sharply before leveling off, the efforts by student editors to contribute content to Wikipedia have become an increasingly important part of the project to write the world's largest and most inclusive encyclopedia.
But the simple ability of students to add content to Wikipedia is neither positive nor negative. Bad content, after all, imposes a cost to the project by putting demands on volunteer time (Wikipedia's most limited resource) to clean things up and remove bad work. So it's not only important that students add content, it's important that they add good content.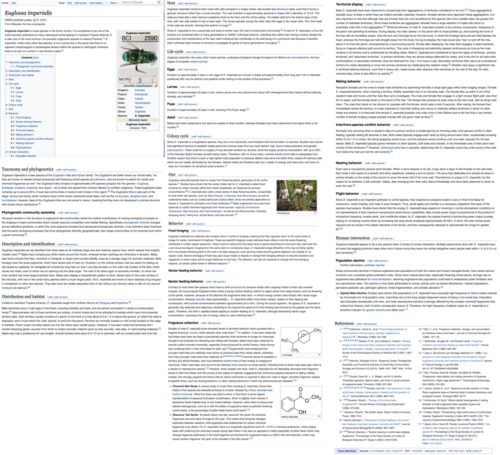 Across an extremely wide swath of topics, student editors have been able to make substantial improvements to the quality of content on Wikipedia. Sometimes, like with the Euglossa imperialis article shown in the image at right, the article created by the student tends to stay pretty much as is. Although this article was created in 2015, 91% of the article text remains the work of the student editor who created it; most subsequent edits have been WikiGnoming of one sort or another. In other cases though, student edits act as a catalyst for further development of the article.
At the start of 2016 the article about Kalief Browder — an African American boy who was imprisoned in Riker's Island for three years without trial for the crime of allegedly stealing a backpack — was about 380 words long. In spring term that year, a student editor in Fabian Neuner's Black Lives and Deaths class worked on Browder's biography and expanded it to more than 5,500 words. The difference in this case is that the article has continued to attract edits since the class ended. In the remainder of 2016, after the class ended, the article received 135 edits, almost precisely the same number of edits (133) as it had received in the previous two years. Not only that, the article has continued to develop as other editors have tweaked and modified the article. At the end of the class, 82% of the article was the work of one student editor; today it's only 53%. The article about the short life and tragic death of Kalief Browder hasn't gotten much longer, but its overall quality has continued to improve.
In 2016, a student in George Waldbusser's Biogeochemical Earth class created the Boring Billion article about the roughly 1 billion-year long period in Earth's history in which not a whole lot seems to have happened. By the time the class was done working on that article, they had turned a redirect into a well-written, well-referenced, well-illustrated article. Three years later, another Wikipedian, User:Dunkleosteus77, improved the article and had it promoted to Good Article status. Although Dunkleosteus77 restructured and rewrote most of the article (to the point where they are now responsible for 66% of the article text), they had something that was fairly substantial to work from.
The increased editing could be attributed to a number of causes. Kalief Browder's biography received may have attracted edits due to the increased awareness of his imprisonment and suicide after his release set against the slow rise in attention paid to the Black Lives Matter movement between 2016 and early 2020. It's possible that User:Dunkleosteus77 would have created the Boring Billion article themselves if it hadn't been created by students. But it's also possible that these articles attracted efforts to improve them because they existed and because they already had a substantial amount of good content.
It's very difficult to generalize from individual examples like this. It seems likely, but each individual story may just be an outlier, an unusual case. But a recent study by Kai Zhu and colleagues showed that articles improved by student editors in Wiki Education-supported classes attracted more page views and edits than did a paired set of similar articles that students hadn't edited. They were able to show that in the six months following the expansion of articles by students in our program, other Wikipedians continued to edit these articles at higher rates than they did before the student editors expanded them. This may reflect the fact that student editors play an outsized role in the early development of articles related to academic topic areas.
It's important to recognize that the process of content creation over the past ten years has been a partnership between Wiki Education and a growing group of dedicated instructors who bring their students back to Wikipedia year after year. For the instructors that do this, there's a possibility for their students to make a major impact on the way an area of knowledge is portrayed on Wikipedia — or whether it's present at all. In 2013, Erik Herzog brought the Wikipedia assignment to his chronobiology class for the first time, and they're returned every other Spring. When three chronobiologists shared the Nobel Prize for Physiology or Medicine in 2017, the world rushed to Wikipedia to discover who these people were. And they read biographies that had been written by students in different iterations of the class. When instructors bring their students back to the same general area, year after year, as some have, a true corpus of knowledge is added to Wikipedia; beginning in 2012, Joan Strassmann's behavioral ecology classes have added almost 1.5 million words to Wikipedia in articles about bees, wasps, and flies.
When student editors contribute in areas that are outside of the subjects that Wikipedia's volunteer community tends to favor, they aren't just adding content. They're also encouraging other Wikipedians to also edit in these topic areas, expanding the coverage of underrepresented topics even more than their individual editing can. When you combine the cumulative impact of a decade of student contributions to Wikipedia with the contributions of other Wikipedians who built off their contributions, the cumulative impacts to open knowledge are immense.