Highlights
December saw the wrap up of the Fall 2019 term. Students moved their work into the article main space and put the finishing touches on their articles. Another cohort of students can proudly say that they helped to improve Wikipedia and in doing so, the world's access to good and reliable information.
In December, we signed a contract with the American Physical Society (APS), who is sponsoring a Wiki Scientists course beginning in February 2020. APS is supporting its members as they learn how to add women physicists to Wikipedia.
Our two final Wikidata courses of 2019 just wrapped up. This was the largest group of participants we have worked with and they made a lasting impact on Wikidata. We are eager to see what they will do with their Wikidata knowledge and if their institutions will invest in Wikidata in the future. We were very pleased with both course's contributions and look forward to the sustained impact they will have on Wikidata.
Programs
Wikipedia Student Program
Status of the Wikipedia Student Program for Fall 2019 in numbers, as of December 31:
388 Wiki Education-supported courses were in progress (221, or 57%, were led by returning instructors)
7,532 student editors were enrolled
67% of students were up-to-date with their assigned training modules.
Students edited 6,390 articles, created 648 new entries, added 5.62 million words and 56,200 references.
December saw the wrap up of the Fall 2019 term. Students moved their work into the article main space and put the finishing touches on their articles. Another cohort of students can proudly say that they helped to improve Wikipedia and in doing so, the world's access to good and reliable information.
As the Fall term was coming to a close, Wikipedia Student Program Manager Helaine Blumenthal was busy getting ready for Spring 2020. There are a lot of moving parts when supporting close to 400 courses a term, and Helaine makes sure that all of our courses are set up for success. As courses wound down, Wikipedia Experts Ian Ramjohn, Shalor Toncray, and Elysia Webb carefully reviewed each course to make sure that all student content made it into the article main space where appropriate.
During December, Helaine also had the opportunity to visit UC Berkeley where she talked about the Student Program alongside Naniette Coleman, long time program participant. During the talk, several of Naniette's current and past students presented on their Wikipedia experience. We hope to welcome some of the attendees into our program going forward.
Student work highlights:
Assimilation. It's not just just something that happens when the Borg come across certain Star Fleet Captains. It's something that can occur as a result of a minority group takes on the traditions and culture of the majority, which in turn runs a strong risk of the minority abandoning or changing parts of their own culture. Sometimes this cultural assimilation is voluntary, such as an immigrant adopting new behaviors and culture in order to ease the process of integrating into a new country. Other times it's forced upon the individual, as was the case with Native American children who were often forcibly taken from their homes and placed in Indian Residential Schools, such as the ones in Wisconsin. Children were told that they must learn about Euro-American culture and subject matters and that their old ways were "barbaric". The children would be given Western-style clothing, haircuts, and names, as well as encouraged to learn and speak in English. Schooling was often harsh and sometimes even deadly, as the children could be punished if they didn't speak in English, try to run away, or otherwise rebel. Conditions in some schools were terrible and children were kept in dirty, unsanitary locations with poor access to proper health and nutrition. Some Native Americans who lived in these schools reported that they received sexual, manual, physical, and mental abuse from the very people who were meant to care for them. Not all of the schools were seen as completely horrible and inhuman, however, as in the case of the Tomah Indian Industrial School in Wisconsin, which reportedly was such a model school that Native Americans who lived near the school wished to send their children to the school in order for them to receive a formal American-style education. Although it has been decades since the last boarding school closed, it's important to remember that this happened so that society and humanity can learn from and hopefully avoid the events that occurred. It's thanks to the students in Rebekah Willett's LIS301 class at UW-Madison that an article on American Indian boarding schools in Wisconsin now exists on Wikipedia, as this can help ensure that this part of American history will not be forgotten.

Science is shaped by Wikipedia, highlighting the importance of accurate scientific content. Florida State students in Hank Bass's Advanced Molecular Biology course contributed greatly to topics in molecular biology this term. Students added paragraphs of content and dozens of citations to articles like C9 and LINE1, both important genetic concepts. Students also created three new articles: A8V and D145E, both genetic mutations, and Bernhard Brenner, a muscle fiber researcher. When students learn how to improve Wikipedia articles, their work actually ripples through future scientific literature. A study examining chemistry content on Wikipedia found that its content doesn't just reflect science, but it actually influences the future direction of science. The terminology and citations that these students added are more likely to crop up in future scientific publications, an outcome that is very unlikely in traditional writing assignments.
Serialized novels have been a popular way to tell stories and has endured over the centuries, albeit changing and adapting to the times as technology has made it easier for writers to release their work directly to the reader via methods such as podcasting. Prior to this, however, it was common for serial novels to be distributed in print through methods such as pamphlets or newspapers. One student in Larry Hanley's English 480 class at San Francisco State University chose to create a new article on Blake; or the Huts of America. Written by Martin Delany, who drew upon current and historical events as material, it was initially published in two parts. The first in 1859 by the Anglo-African Magazine (AAM), and the second, during the earlier part of the American Civil War, in 1861-62 by the Weekly Anglo-African Magazine (WAA), however the novel is incomplete due to historians being unable to locate any copies of the issues that would presumably complete the novel. Scholarship and awareness of the book was minimal following the last serial installment, however it gained more attention in the 40s through 60s, partially informed by its ideological influence on the types of Black revolutionary thought seen in the Black Power and Pan-Africanism Movements.
In April 1951, Barbara Rose Johns and other African American students at R. R. Moton High School in Farmville, Virginia, protested the educational qualities and horrible conditions in the school system. Theirs was not an isolated case, as other African American students were also not given access to the same quality of education that their white peers enjoyed. This led to the landmark case Brown v. Board of Education, where the Supreme Court deemed segregation unconstitutional and that traditionally white schools should admit black students. Attempts were made by Virginia Senator Harry F. Byrd, Governor Thomas B. Stanley, and his successor J. Lindsay Almond to defy the ruling via the Stanley Plan and Massive Resistance, but were unsuccessful. In Norfolk the segregationist school board was willing to admit African American students — but only if they were able to pass an admissions exam and go through entrance interviews. Unbeknownst to the applicants, they were tested on material that was 1-3 grades above their current level and as a result all of the reported 151 students failed the exam. District Court Judge Walter E. Hoffman, who wasn't to be fooled by the school board's plans, expressed disbelief that all of the students failed the exam and demanded that some be admitted. As a result the Norfolk 17, six boys and eleven girls, were integrated into all-white schools on February 2, 1959. They were prepared beforehand for both the educational lessons that white students received as well as for the abuse that those same white students and others would likely try to inflict upon them. Instructions were given on what to do if they experienced actions such as being spit on or pushed down stairs and the Norfolk 17 have described the school environments as hellish, stating that they were spit on, knocked down stairs, and had personal belongings destroyed. They were also instructed to sit by the door in case they needed to escape easily and to sit at the front of the class where the teacher could see if one of their peers did something to them. Their fellow students would also cover up their faces as the African American students entered the room. Despite being met with hostility, the Norfolk 17 stated that they did not miss a day of school and that they endured the pain every day to ensure that desegregation would happen. Prior to the article being moved live there was no article of this group on Wikipedia, so it's thanks to a Columbia College student in Sarah Lirley McCune's African American History class that this amazing group of people now have an article on Wikipedia.
Art is an amazing thing. It can tell tales that will continue being told long after the artist's death. It can help researchers learn more about the artwork's original context and meaning in antiquity. However those details aren't the only things of interest about an older artwork: There is also much to learn about its "grounding" — the circumstances of its modern re-discovery, excavation, restoration and display. A student in Richard Teverson's Roman Art class at Fordham University chose to expand the article on the Meroë Head. Also known as the Head of Augustus from Meroë, is a larger-than-life-size bronze head depicting Rome's first emperor that was found in the ancient Nubian site of Meroë in Sudan. Long admired for its striking appearance and perfect proportions, it is now part of the British Museum's collection. It was looted from Roman Egypt in 24 BC by the forces of Queen Amanirenas of Kush and brought back to Meroe, where it was buried beneath the staircase of a temple.
Kratom (Mitragyna speciosa) has become popular as a recreational drug and dietary supplement, although it is not approved for any drug use and is illegal in several countries and US states. Mitragynine is the most abundant alkaloid in kratom, and the main psychoactive compounds in the drug, but until a student in Benjamin Wolozin's Systems Pharmacology class created the article, Wikipedia had very little information about the compound. When kratom is often presented online as either a dangerous drug or a panacea, a Wikipedia article that simply summarizes the chemistry of its main constituent is especially beneficial. Other student editors in the class expanded on articles about EIF4A1, a protein produced by humans, and GrpE, a bacterial protein.
African topics are generally covered in less depth on Wikipedia than are comparable topics in other parts of the world, which makes the work done by students in Mark Daku's Introduction to African Politics class especially important. Student editors in the class made major improvements to topics ranging from Gender equality in Rwanda, to Education in Equatorial Guinea, 2002 Mombasa attacks, the Politics of the Comoros, and Seychelles.
Three student-authored articles appeared on Wikipedia's Main Page in the Did You Know? section: Rhagoletis juglandis on December 2, Coelopa pilipes on December 17, and Hirtodrosophila mycetophaga on December 18.
Scholars & Scientists Program
Wikidata
Our two final Wikidata courses of 2019 just wrapped up. This was the largest group of participants we have worked with and we were very pleased with their impact on Wikidata.
Beginner: This course had 18 editors who created 15 new Wikidata items, made more than 575 edits to Wikidata, and added 147 references to statements, improving the data quality for all of those statements. This course had a healthy mix of participants with linked data experience and some with less Wikidata experience. One item, William Marshal, 1st Earl of Pembroke, received more than 20 new references, bolstering the accuracy of their respective statements. The interests of this group varied greatly. Follow this link to see a complete list of items they edited.
Intermediate: Eleven editors participated in this course. They added 217 references to statements and edited 178 items with 834 distinct edits. This course featured a particular emphasis on court cases, which is essential to help address the content gap with law-related items on Wikidata. You can follow this link to see a full list of articles this group worked on.
This record number of participants made a lasting impact on Wikidata. We are eager to see what they will do with their Wikidata knowledge and if their institutions will invest in Wikidata in the future. We were very pleased with both course's contributions and look forward to the sustained impact they will have on Wikidata.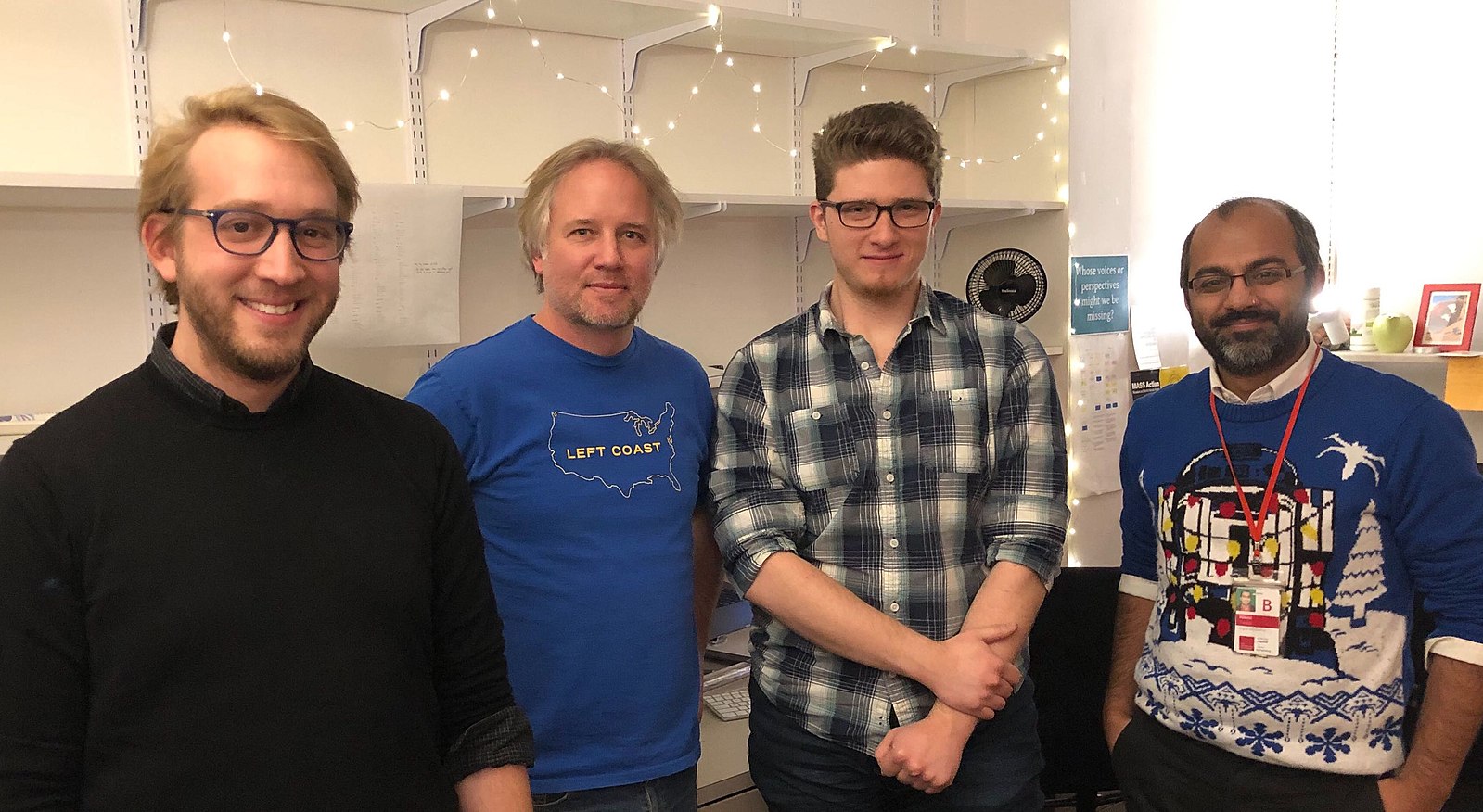 Wikidata Program Manager Will Kent was able to visit some course participants at the Art Institute of Chicago in December. Participants Josh Andrews, and Illya Moskvin, along with their supervisor, Nikhil Trivedi discussed the outcomes of the course and the impact that linked data will have on museums like the Art Institute. The Art Institute recently launched a public API that anyone can use to learn more about their collection data. During their meeting they covered a lot of ground, identifying the following areas of interest in museums that linked data will affect:
All museum collections have incomplete data about their works. Other institutions or editors may be able to help fill in those gaps on Wikidata
Having a persistent URL on Wikidata will increase the visibility of items thanks to Google's (and other search engine's) emphasis of Wikimedia URLs in search results
Applying collection authorities will allow institutions to be a more definitive source about collection data (if the museum knows the most about a particular work, they would have the most detailed data – sharing that on Wikidata would further establish that authority)
Additional discoverability/linking through identifiers across other databases (any other museum or the Getty thesaurus for instance)
Having collection data structured across several institutions, the ability to query across collections becomes possible
These queries can answer any number of questions posed by patrons, artists, publishers, researchers, museum leadership, or colleagues from other institutions
We couldn't be more proud of these course participants leading the conversation on linked data at their institution. We look forward to hearing how linked data projects continue to develop at the Art Institute.
Wikipedia
This month, our Living Knowledge Wiki Scientists began improving Wikipedia articles on biology topics. Though most are still in the drafting phase, working in sandboxes, examples of the topics they are improving include stretch reflex and reporter gene. These two important concepts in human physiology and genetics have Wikipedia articles which have been tagged with problems for many years, making them ideal projects for subject-matter experts to tackle.
The Women in Red at UMass Lowell Wiki Scholars course wrapped up this month. Participants did much of their editing last month, and when we reconvened after the Thanksgiving break we shifted the conversation to teaching with Wikipedia. Unusual for our Wiki Scholars courses, we included two weeks preparing participants to incorporate Wikipedia into their classes using Wiki Education's Student Program. This was part of a larger initiative the university is running under the heading of "Women in Red at UMass Lowell," working to improve Wikipedia, faculty skills, and pedagogy. Several of the Wiki Scholars did continue to edit this month, however, resulting in multiple new articles:
What Mrs. Fisher Knows About Old Southern Cooking, an 1881 cookbook written by Abby Fisher, a former slave. It is believed to be the first cookbook written by an African-American.
Eliza Jane Cate (1812-1884), a New England writer of fiction who also worked in several cotton mills.
Mico Kaufman (1924-2016), a Romanian-American sculptor who made inaugural medals for Presidents Ford, Reagan, and Bush, Sr.
Visiting Scholars Program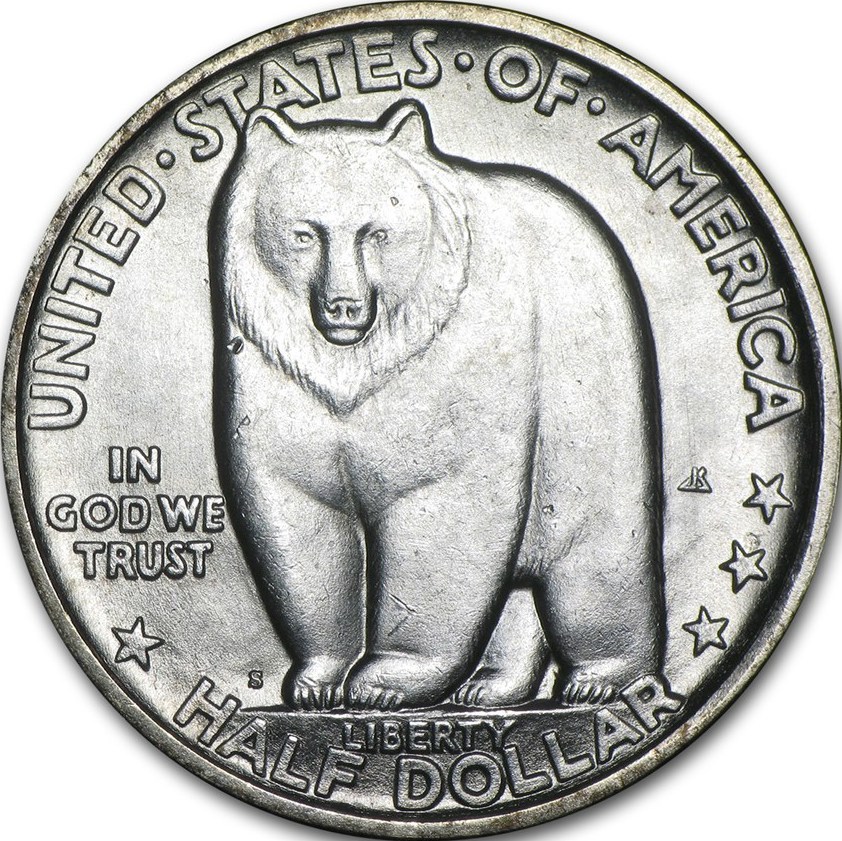 The San Francisco–Oakland Bay Bridge half dollar is a commemorative fifty-cent piece struck in 1936. Designed by Jacques Shnier, it celebrates the opening of the Bay Bridge that year. One one side is the bridge itself, and on the other a large grizzly bear. The bear was chosen as a symbol for California, but there was controversy because the design itself may have been modeled after a captive bear in a cage in Golden Gate Park. Unusually, one of the ways it was sold was through booths on either side of the bridge. This month, George Mason University Visiting Scholar Gary Greenbaum successfully brought the article on the coin up to Featured Article status, marking it as one of Wikipedia's very best.
Advancement
Partnerships
In December, we signed a contract with the American Physical Society (APS), who is sponsoring a Wiki Scientists course beginning in February 2020. APS is supporting its members as they learn how to add women physicists to Wikipedia. This collaboration started after Donna Strickland won the Nobel Prize in Physics and did not meet Wikipedia's notability standards until the award was announced. With the resulting controversy, APS saw the importance of ensuring women physicists are recognized for their work and achievements. In March 2019, Wiki Education attended the APS annual meeting to get members excited about adding women to Wikipedia. This month, we took the collaboration further by committing to running an in-depth training in early 2020 to build more Wikipedia expertise into the membership. We look forward to seeing their excellent work on Wikipedia in the new year.
Fundraising
In December, we received notification from the Wikimedia Foundation that our Annual Planning Grant was approved in the amount of $400K. This money will be used to support our work. We submitted an interim grant report to the Michelson 20MM Foundation, describing our work on improving the functionality of the Dashboard for both students and instructors. We also drafted and submitted a final report for our grant from the Moore Foundation.
Throughout the month, we prepared for the departure of Chief Advancement Officer TJ Bliss, who was scheduled to end his tenure at Wiki Education in early January 2020. This preparation included ensuring all notes, data, and other information related to the past 2.5 years of fundraising activities were carefully documented and organized. We also held several senior leadership team meetings to thoughtfully strategize about how to ensure continuity of fundraising efforts into the future. As part of this strategy, a decision was made to retain TJ as a part-time consultant for a few months, in order to provide sufficient time to onboard a replacement and maintain relationships with key funders.
Communications
December is an especially great time to get instructors excited about teaching with Wikipedia in the spring, so we published quite a few guest blogs from Student Program participants. Kai Medina, a student of ecology, shares why he has continued to edit Wikipedia in his free time after completing the assignment earlier in 2019. Rachel Tamar Van taught a Wikipedia writing assignment in a classroom full of history teachers, and shares why she fell in love with the assignment. We spoke with Heather Sharkey, whose students at the University of Pennsylvania felt connection to local history while writing Wikipedia page for a local mosque. And Melissa Kahili-Heede and Richard Kasuya explain how they threw a pizza party for the student group who improved their assigned Wikipedia article the most.
We also featured a blog by a Wiki Scientist in our Society of Family Planning sponsored Wikipedia training course. In it, she explains how she combined her personal and professional experiences with doulas to improve the Wikipedia article about them.
Blog posts:
External media:
Teaching Innovations at Vanderbilt: Danielle Picard, Mary Anne Caton and Wikipedia Editing. Faith Rovenolt. Vanderbilt University Center for Teaching. (December 15, 2019)
Technology
In December, we finished up and deployed the initial version of the Progress Tracker interface for guiding students through the main stages of Wikipedia writing assignments. This new set of features is ready for the incoming wave of Spring 2020, and we'll be conducting usability tests with students in the first weeks of 2020.
We also improved how Exercise modules integrate into course pages, and made a number of dependency and test updates to keep the Dashboard codebase up-to-date.
Our two winter Outreachy interns started work this month; their projects will continue from now until March 2020.
Finance & Administration
The total expenditures for the month of December were $177K. It is ($5K) under the budget of $182K. Fundraising was right on target. Governance was over by +$1K, due to a payroll increase. General and Administration was over by +$5K. +$15K in indirect costs not allocated, +$1K in payroll, while underspending ($11K) in Professional Services, we expect to see these expenses in Q3. Programs was under ($11K), ($15K) in Indirect Costs not allocated, ($5K) in Travel, ($2K) in Communications, with an increase in Payroll Expenses of +$11K.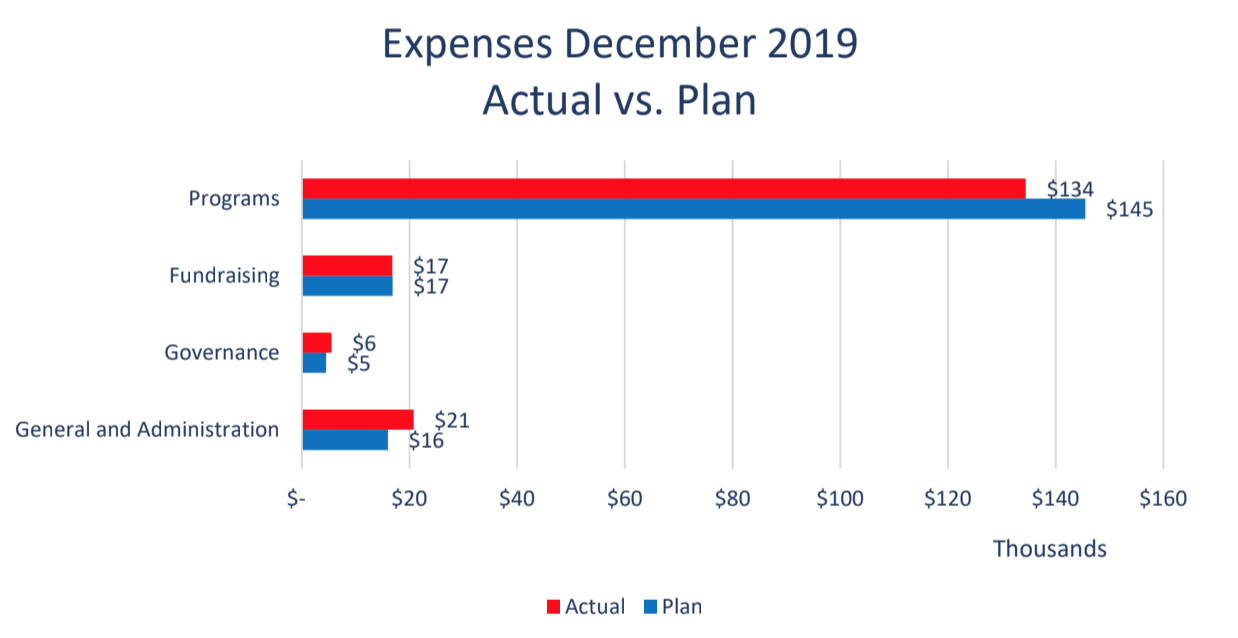 The Year-to-date expenses $1.073K, ($40K) under the budget of $1.113K. Fundraising is under by ($3K), of which ($2K) is Indirect Costs and ($1K) is under in Travel. General and Administration is over by +$51K. +$77K in indirect costs not re-allocated to Programs and Fundraising, +$5K in Travel, while underspending ($27K) in Professional Services and ($4K) in General Expenses. Programs is under ($89K), of which ($75K) relates to Indirect Costs, ($11K) in Communications, ($33K) Travel, ($2K) in Administrative Costs while over in Payroll Expenses +$19K, and Outside Services +$13K.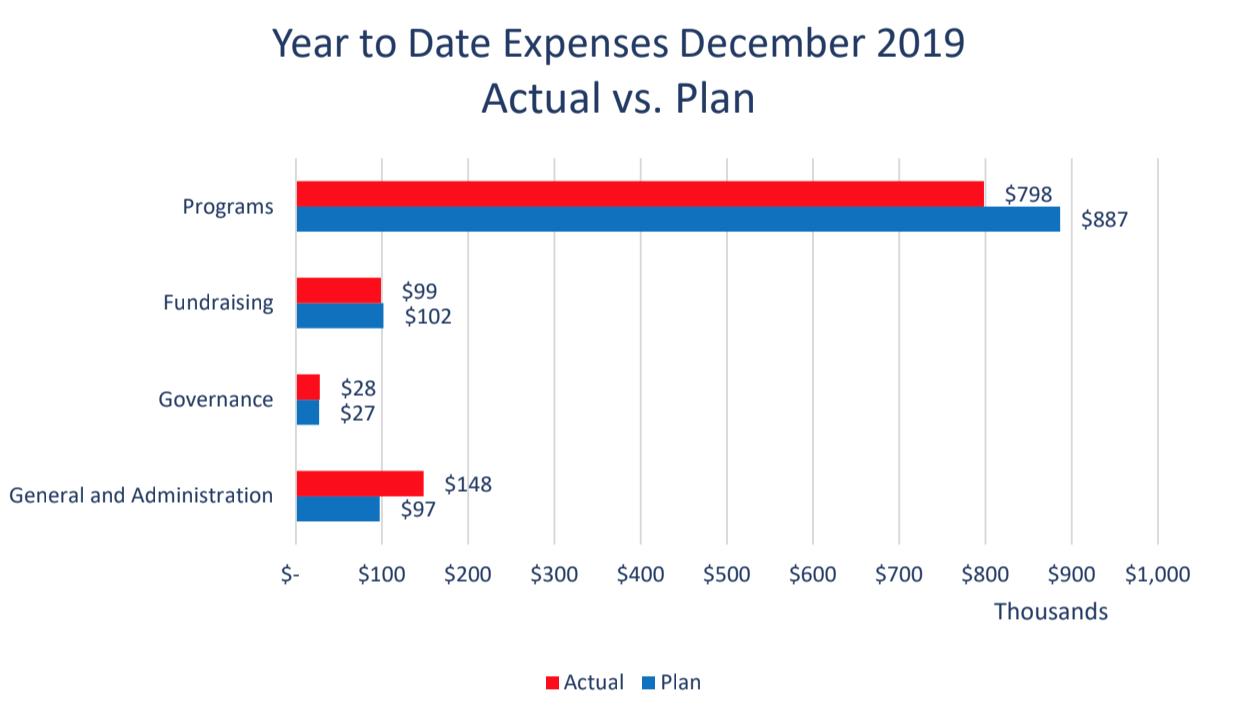 Office of the ED
Current priorities:
Hiring of a new fundraiser
Finalizing the audit for fiscal year 2018–19
Preparing for the in-person board meeting in January
In December, Executive Director Frank Schulenburg started the search for a new fundraiser. With TJ leaving Wiki Education in January to take on a new role as Chief Academic Officer at the Idaho State Board of Education in his hometown Boise, Frank will hire a fundraiser focused on institutional funding. In order to find a good candidate in a very tight job market in the Bay Area, Wiki Education will work with recruiters at m/Oppenheim, who have been successful in sourcing positions for our organization in the past. Beginning in January, Frank will oversee the Advancement Team's work in the areas of earned income and grants.
Together with members of the senior leadership team, Frank continued working on the fundraising outlook analysis, as well as on a number of opportunities for future programmatic work. He also finalized work on mapping out the services that Wiki Education will offer over the next couple of years. In order to get a better picture of what our work in fiscal year 2020–21 might look like, Deputy Director LiAnna Davis and Frank continued the discussion of potential areas of collaboration between Wiki Education and the Wikimedia Foundation with Alex Stinson, Senior Strategist, Community Programs at Wikimedia.
Visitors and Guests
Abhishek Suryawanshi visited Wiki Education's office to collaborate on ideas on how Wiki Education can help him on his project to translate our dashboard into regional local languages.
***