Want to learn about a prominent Japanese anarchist feminist at the turn of the century? Or Japan's first woman journalist? How about an important activist in Japan's 20th century women's liberation movements, who was imprisoned repeatedly for her politics?
Thanks to Dr. Elyssa Faison's students at the University of Oklahoma, you can now read all about Itō Noe, Hani Motoko, and Miyamoto Yuriko on Wikipedia.
As part of Dr. Faison's Spring 2019 course, Gender and Sexuality in Modern Japan, students expanded Wikipedia biographies that were only a few sentences long and created new biographies for others. Students provided well-referenced context for these women's lives and accomplishments on the fifth most visited website in the world. And they learned about the backend of Wikipedia in the process, valuable digital skills for evaluating information they encounter online with a critical lens.
Each of the links for Itō Noe, Hani Motoko, and Miyamoto Yuriko's Wikipedia articles shows the Authorship Highlighting functionality of Wiki Education's Dashboard. Click through to see how instructors in our Student Program keep track of the content their students have contributed to Wikipedia.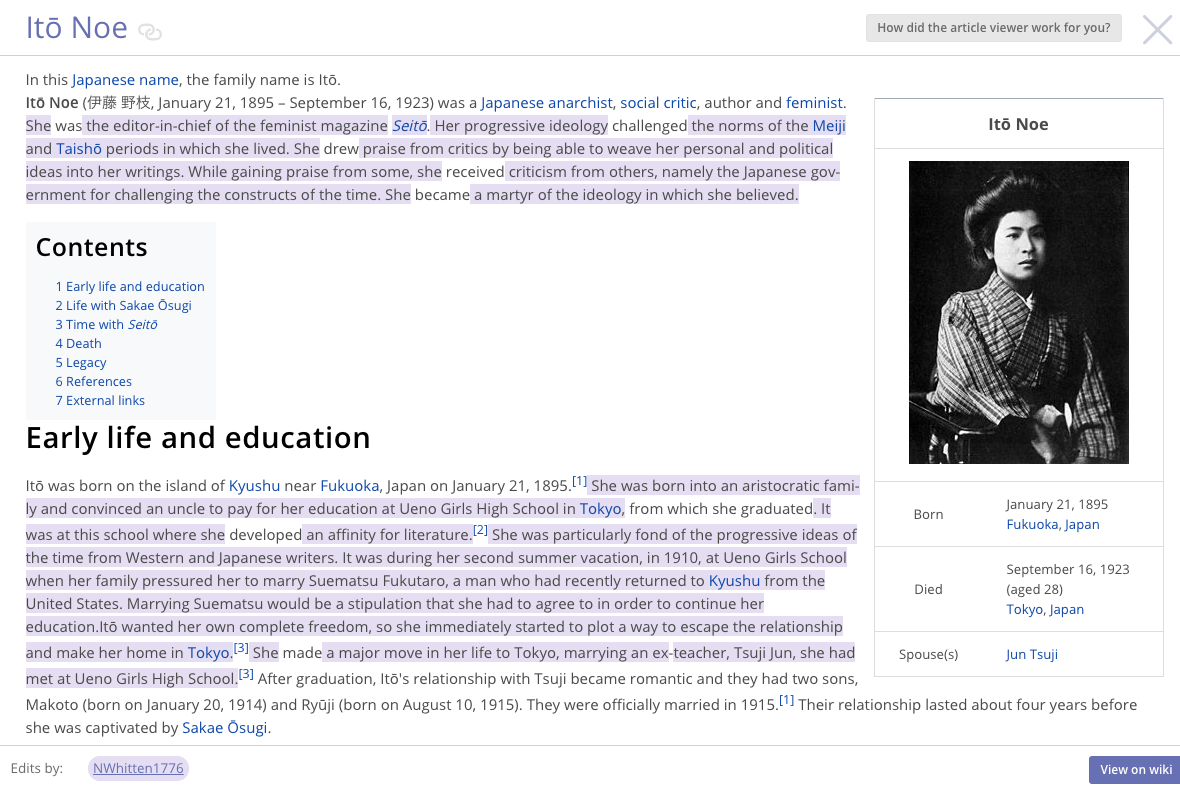 As Dr. Faison's course page can show you, her twelve students added 12,000 words to 14 articles on Wikipedia, four of which they created from scratch. Those articles have been viewed more than 10,300 times since May!
When instructors sign up for a Dashboard course page, they have access to the Authorship Highlighting tool, our assignment templates, student trainings, staff support, and more. Because of our generous funders, that support is free for higher education instructors. Join us!
---
Interested in incorporating a Wikipedia assignment into an upcoming course? Visit teach.wikiedu.org for all you need to know to get started. Reach out to contact@wikiedu.org if you have questions.
---
Images by Unknown (public domain); Leovando Galvão (CC BY-SA 4.0); and Unknown (public domain) via Wikimedia Commons.