A key facet of Wiki Ed's Classroom Program is the work of our Wikipedia Content Experts — experienced Wikipedia editors who are available to support students as they navigate editing Wikipedia for the first time. I'm pleased to announce Robert Fernandez has joined Wiki Ed on a short-term contract to provide additional support to student editors in the fall 2016 term.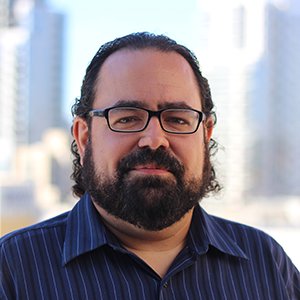 As User:Gamaliel, Rob has been active editing Wikipedia since 2004, with a special focus on arts, library science, and history topics. He's volunteered to serve Wikipedia in numerous roles, including as co-editor-in-chief of the community newspaper theSignpost, a coordinator for the Wikipedia Library, an administrator, a board member for Wikimedia D.C., and recently lead organizer and communications chair for WikiConference North America 2016.
Outside his Wikipedia work, Rob is a university librarian who has many years of experience supporting student research and teaching media literacy to students. His unique combination of university library work and Wikipedia experience make him a great fit for helping answer student questions, provide feedback on student drafts, and otherwise support student editors in our Classroom Program as a Wikipedia Content Expert. Rob can be reached at his user page on Wikipedia at User:Rob (Wiki Ed).