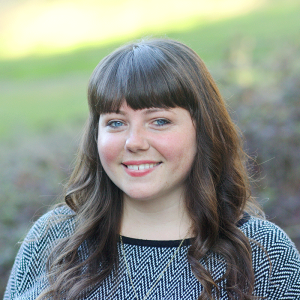 We started the Year of Science because we see Wikipedia as a vehicle for science outreach to the public.
Scientists often do contribute to Wikipedia. It's a way to bring knowledge about their field to the public. But many don't have the time to edit as much as they'd like. That's why instructors consider writing for Wikipedia as a special kind of research assignment.
Students add content from credible sources with a reputation for fact-checking and rigorous peer review. They cite everything they add, so it's verifiable for millions of readers. Students learn more, apply their knowledge of the field, and contribute to a durable knowledge resource.
At last month's American Society of Plant Biologists' (ASPB) conference in Austin, Texas, Outreach Manager Samantha Erickson and I met Dr. Sarah Wyatt's students from her fall 2015 Writing for the Life Sciences class at Ohio University.
Anne Sternberger, a PhD student in the course, told us, "I always used Wikipedia growing up, but I never trusted it for actual biological information until I took Dr. Wyatt's class and realized scientists contribute to it."
So why wait? We asked scientists at the conference to contribute to Wikipedia. ASPB members found Wikipedia articles about plant biology. In 15 minutes, they evaluated an article's quality, found missing content, and made notes about plant science articles that need work.
This expert analysis served as a starting point for the Simons Foundation's Wikipedia edit-a-thon at the conference. Together, our workshop offered a quick overview of Wikipedia, and empowered them to contribute. 26 attendees added nearly 7,000 words in just a few hours.
Wikipedia is the world's most popular open-access educational site. When experts, or students under expert guidance, share knowledge, the whole world benefits.
Dr. Judy Brusslan's work during the edit-a-thon is an excellent example. During Sunday's evaluation exercise, she read the article about plant senescence. The information about hormones that cause aging in plants wasn't quite right. So she joined us at the edit-a-thon to learn how to edit Wikipedia.
After our brief overview, and with facilitators helping new editors dive right in, Dr. Brusslan got to work. She clarified and corrected the first two paragraphs of the article with better information.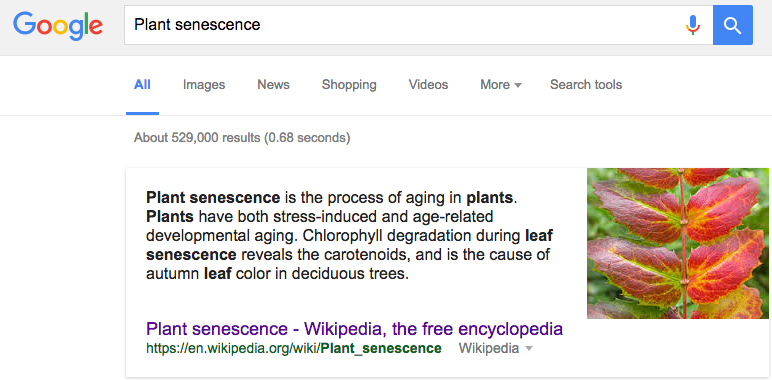 Now, when anyone searches for "plant senescence" on Google, Dr. Brusslan's definition comes right up. You don't even have to click through to Wikipedia! Google pulled it up and presented it on the search page.
"Wikipedia is going to be a vital part of public science literacy in the future," said Dr. Wyatt's PhD student Alexander Meyers.
We agree. That's why we think Wikipedia literacy is so important. It's why we support instructors as they develop curriculum for students to edit Wikipedia. They're training the next generation of scientists.
We're excited to see the fruits of our partnership with ASPB. If you're a plant scientist interested in channeling student research and writing projects into a public platform, visit me at the Botany 2016 conference! If you have any questions or want to get started right away, send an email to contact@wikiedu.org.
---
Photo: Oregon Grape Leaves by Socrtwo. Public Domain.