The miracle of Wikipedia is that it has been assembling the world's knowledge for 15 years, all of it contributed from volunteers. It is not only a collection of the world's knowledge, then, but a reflection of the world's passions.
This can, however, tie Wikipedia's content to leisure. For many, contributing to Wikipedia is a relaxing activity. Yet, some of the world's most important topics are not always the most comfortable. This is especially true when it comes to topics of women's health. Conservative estimates suggest 80% of Wikipedians are male. With editing patterns following passion and interest so often, women's health topics can be neglected.
That plays out in the numbers. Women's health is a crucial content gap on Wikipedia, with only 5 articles categorized as among the best on Wikipedia. Only nine have received the next-highest rating. Meanwhile, a staggering 633 articles are rated as "stubs" or "start-class," the lowest designations of article quality. Those articles could contain valuable information on important health topics. Articles still marked with the lowest-quality rating on Wikipedia include articles on cervical cancer, radical mastectomy, live birth, and feminine hygiene.
Nonetheless, women searching for information on women's health are still likely to find it on Wikipedia, because it's often the first Google result for these topics. Though a handful of volunteers have been working tirelessly to improve these articles through groups such as WikiProject Women's Health, there's only so much a small group of volunteers can do to tackle the problem.
If other editors don't want to write them, the information in the articles can be piecemeal, out of date, or downright inaccurate. Another roadblock to writing these topics is access to the academic sources required to build a reliable, verifiable article. Often, these are locked behind paywalls, accessible only to those who hold a privileged connection to a college or university.
That's where the Wiki Education Foundation's Visiting Scholars program can help. Visiting Scholars are active, experienced Wikipedia volunteers who are paired with an institution of higher education. This volunteer is given access to resource materials from libraries, including special collections. The Visiting Scholar then sets out with these resources to build up articles related to those collections or topic areas of mutual interest. It's a natural complement to the impact of our Classroom Program.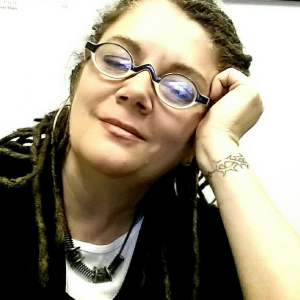 Barbara Page is a nursing student, a grandmother of four, and one of two Wikipedia Visiting Scholars at the University of Pittsburgh. She's been focused on women's health.
"In my mind, I have this image of a woman my age just receiving information from her doctor, telling her that she needs some kind of gynecological procedure that she can hardly pronounce," Barbara said. "Fortunately, she just bought a cell phone that has the big 'W' of Wikipedia listed in her apps, where she might find the information she needs to ask her physician. Younger men are still the most prolific content creators, and I don't think they like to contemplate the health issues their grandmas might be dealing with."
Barbara has also tackled some difficult articles that many may not want to write. One of those is the article handling rape. For that article, seen nearly 1,500 times every day, accurate content is vital.
Drawing from resources accessed through the University of Pittsburgh, she's expanded content in the article regarding emotional and physical effects and, most of all, their respective treatments. She's updated sourcing, and worked to bring the article up to date in terms of how rape is defined and understood. For example, Barbara added detailed information on emotional and psychiatric treatments, which had been a paragraph on contraception and a list of possible sexually transmitted infections (STIs). The treatment section is now an in-depth description of rape kits, possible injuries, infections and discussion of common emotional responses such as anxiety, PTSD, and eating disorders.
Barbara has developed articles on a variety of topics, such as neonatal infections, breastfeeding, and various infections. She's tackled more general health topics, too, such as hospital-acquired infections, STIs, infant respiratory distress syndrome, and Crohn's disease.
"Medical articles on Wikipedia are notoriously difficult to source and keep up-to-date," she said. "Medical textbooks have been made available to me through the Pitt Library System. It would be next to impossible for me to access these texts on my own — especially since most texts are now 'virtual', i.e., I couldn't even buy them if I wanted to!" She said that electronic editions of the textbooks she references are updated automatically, which keeps her references timely.
Ed Galloway, the head of the ULS Archives Service Center at UPitt, calls Barbara "an absolute gem." He's been excited by the contributions she has made, alongside the contributions of Casey Monaghan User:Seattle, a Pitt student who has done great work focused on the history of Pittsburgh and its residents. We featured some of the work Casey has done to improve the article about Pittsburgh architect and musician, Robert Schmertz, which reached the level of Good Article and appeared on Wikipedia's main page.
At first, Ed said he didn't know what to expect from Visiting Scholars.
"I was intrigued by the program because it would allow expert editors to leverage the unique resources we have at Pitt to improve Wikipedia, and hopefully drive potential researchers to our own sites to seek information directly from us," he said. "What I could not have anticipated whatsoever is the work Barb has done. It never occurred to me that, with access to Pitt's enormous array of licensed resources, she could be so effective at creating and editing articles on women's health issues."
One compelling element of Barbara's work is her translation of medical content on Wikipedia for the Haitian Creole edition of Wikipedia. Haitian Creole, or Kreyol, is spoken by about 12 million people.
"I have traveled to Haiti in the past, and have fallen in love with the people and the country," she said. "Not only is quality medical information difficult to find and receive, I don't even know if there is an intact college library in the whole country. People there are dying from cholera. Women have next to no information about their own bodies."
This is the kind of unexpected reach that extends the benefits of opening up resources to a Wikipedia Visiting Scholar. As an experienced Wikipedia editor, a Visiting Scholar has a deep understanding of policies and procedures on Wikipedia, but also the kind of knowledge gaps that they can fill with those resources.
If you're interested in hosting a Wikipedia Visiting Scholar at your own institution, let us know! Send us an email: contact@wikiedu.org.