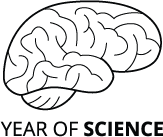 Our Year of Science initiative aims to improve Wikipedia's science content and student communication skills. We're also dedicated to improving Wikipedia's coverage of women in science.
We've talked about the importance of role models for young women in science. Today, we want to share some exciting articles students have written about women scientists as part of our Year of Science campaign.
Dr. Jadwiga Lenartowicz Rylko is a Polish doctor who was imprisoned in a Nazi concentration camp in 1944 for listening to radio broadcasts. While in the camps, Dr. Rylko risked her own life to treat other prisoners. Most notably, her intervention prevented an outbreak of typhoid fever in the camps. Dr. Rylko died in 2010, but didn't have a Wikipedia article until this year, when students in Katie McEwen's Autopsy course at Michigan State University created it.
Eugenie Clark is better known as "The Shark Lady." She was an American ichthyologist known for both her research on shark behavior and fish. Her research lead to the invention of shark repellent, and put to rest the theory that sharks must always stay in motion to survive. Her article was greatly expanded, reorganized and cited to better sources by students from the New College of Florida's "Become a Wikipedian" course led by Theresa Burress.
From California State University, Fullerton's Gender and Technoculture course, led by Karyl Ketchum, we have three new articles on women scientists this term.
Suzanne Noel was one of the first plastic surgeons in France, and an early suffragist. She wrote a textbook on plastic surgery, and helped with medical efforts during World War II.
Bertha Van Hoosen became the first president of the American Medical Women's Association in 1915. In 1902, she became a clinical gynecology professor at the Illinois University Medical School, despite resistance to the appointment from male colleagues.
Sara Mae Stinchfield Hawk was the first American to earn a Ph.D. for Speech-Pathology. She co-founded the American Speech and Hearing Association (ASHA) in 1925.
We're excited to see other great examples of women in science as this term comes to an end. We're already looking for new courses for Fall 2016! If you're interested in helping your students contribute information about women in science to Wikipedia — or science in general — we'd love to hear from you. Check out our resources for instructors page, or send us a message: contact@wikiedu.org.
---
Photo: "StFX Physical Sciences Lab" by StFX – StFX. Licensed under CC0 via Wikimedia Commons.