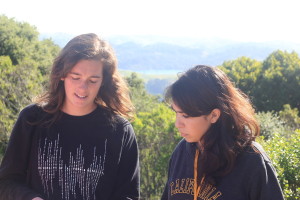 As you might tell from their name, students from UC Berkeley's Berkeley Water Group Idea Lab (BWGIL) are passionate about water.
The group aims to share knowledge about water use in California. Editing Wikipedia was a natural fit.
"The most surprising thing to me was the major content gaps that Wikipedia pages pertaining to water, health, and sanitation had," said BWGIL co-Director Megan Maurino. "This surprise helped fuel my work on water-related pages, and inspired me to do something about the content gaps. I didn't think I was an expert by any means, but seeing how little was written on things that I frequently learn about in class or in BWGIL meetings, I realized I do have knowledge I can contribute."
That desire to fill in content gaps inspired the group to take a field trip to water resource sites, including Pardee Reservoir and the Freeport Regional Water Project Intake Facility. The goal: To take pictures that would illustrate the Wikipedia pages for those water resources. One of these photos is now part of the Pardee Dam page. Student editor Narayansg created the Delta Cross Channel Facility page, and included an image taken and uploaded by fellow student editor Willowjohnson23. And Megan uploaded a photo of the Freeport Diversion Facility tanks.
Megan made plans to coordinate with students from Dr. Julian Fulton's California Water course at Berkeley. Those students were invited to contribute to articles as an extra credit assignment for the class.
"I decided to get ER190 California Water involved because there is such beauty when collaboration happens," Megan said. "We were able to pull together resources that would have never been possible. Including Julian's class allowed us to do the most good for the most amount of people."
It's inspiring to see what happens when student groups follow their natural curiosity and passion. When student groups contribute to Wikipedia, that curiosity turns into a resource for the entire world.
This spring, our student group pilot will continue to work with UCSB's Art, Design, & Architecture Museum Club, Portland State's Lambda Pi Eta, and Oregon State's Pi Alpha Xi & Hydrophiles clubs.
If you know, or are part of, a student program or honor society with an interest in turning your passion into knowledge, contact samantha@wikiedu.org.