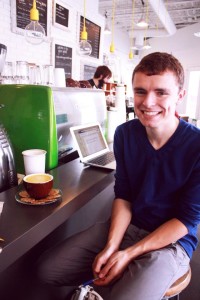 Conor Zeer-Wanklyn had never edited Wikipedia. That changed in his fourth year at the University of Toronto, when Conor signed up for Dr. James Scott's medical mycology course.
Students in that class edited articles about fungi, and Conor expanded an article on Exophiala dermatitidis, "a freaky black mold that has caused fatal brain infections in young and otherwise healthy people." He loved the assignment.
"One interesting aspect of the Exophiala dermatitidis assignment was learning about the history of research into the species. The fungus has had frequent name changes over the last few decades, in part because of (understandable) mistakes and mischaracterizations by researchers. I was able to trace the evolution of literature on Exophiala dermatitidis, in part because the assignment was unique in requiring us to appreciate the full breadth of work on the fungus."
When Dr. Deborah Zamble announced another course with a Wikipedia component, he signed up. He's taking that course now, creating an article on calprotectin.
Writing for Wikipedia, though, took some adjusting.
"In undergraduate science we are accustomed to preparing papers that are technical, argumentative, and that value primary sources. Even though I had avidly read Wikipedia before I began contributing to it, it was definitely a struggle for me to adapt to the style. In a sense, I had to unlearn writing styles that I had been using since high school."
He explored the Wikipedia Manual of Style. His class peer-edited their assignments, assessing the content and style of each article.
Conor said that the Wikipedia assignments required students to appreciate the biological, historical, commercial, and cultural implications of a compound, to access knowledge from other courses, and to explore some entirely new fields of study. That helped him connect his work into a broader network of knowledge.
"To write an effective Wikipedia article you have to really appreciate context," he said. "For instance, chemistry students who want to prepare a complete Wikipedia article on a bioinorganic compound need to appreciate the biological, environmental and historical context of that compound. We are forced to acknowledge aspects of the story that we may have otherwise ignored."
He says this has changed the way he thinks about research, for example, in his current work on calprotectin. Writing for Wikipedia encouraged him to expand his literature search not only deeper, but wider.
"I wouldn't have explored the relationship between humans and their microbiomes as deeply for a traditional assignment; considering that this work was done for a bioinorganic chemistry course. My literature-search would have instead focused very specifically on metal binding by the complex."
While the benefits have been rich in terms of his own learning, Conor has also been enthusiastic about the broader scope of Wikipedia. He sees his work as pulling knowledge out of a closed information ecosystem and into the world.
"I feel that I have some responsibility to improve Wikipedia while I still have access to the phenomenal resources available to University of Toronto students," he said. "While I appreciate that accessible references are ideal for Wikipedia, it feels awesome to take information squirreled away behind paywalls and share it with Wikipedia's vast readership."
He's made some impact outside of the classroom, too. Conor improved an article on the Inuit Canadian illustrator Agnus Nanogak Goose as part of an Art + Feminism edit-a-thon in Toronto this year. He's also hatching a plan with his roommate, an illustrator, to improve Wikipedia articles together. He's interested in chemistry and biochemistry, but also hopes to work on articles in speculative fiction and queer identities.
"I think that I've caught the Wikipedia bug," he said. "It's extremely difficult for me to simply navigate away from pages if I feel that I could improve upon them."