Wiki Ed's Classroom Program is focused on improving Wikipedia by having university students in the United States and Canada write high-quality articles that fill content gaps as part of their coursework. And in fall 2014, the program filled more content gaps than ever before, with improvements in subject areas like archaeology (improved by students from Dr. Kate Grillo's African Archaeology course at University of Wisconsin – La Crosse), women artists (improved by students from Dr. Avery Dame's Women, Art, and Culture course at the University of Maryland College Park, or Dr. Margo Hobbs's Women and Art course at Muhlenberg College) or sociology (such as articles on Global Youth, improved by student editors from Dr. Darcie Vandegrift at Drake University).
In sheer numbers of students and courses, the fall 2014 term was our largest term to date, with Wiki Ed supporting 98 courses and more than 2,500 student editors. That's up from 67 courses and 1,852 student editors in the spring 2014 term.
And what did those students contribute? In volume of content, our students created 455 new articles, and contributed content to 3,000 more. That's up from 253 new articles and 2,639 articles edited last spring.
Even better, readers are finding more information available on the topics those students edit. In the last month since the term wrapped up, articles students edited have been read by more than 33 million people.
Students added 3 million words, equivalent to 8 days of silent reading, 64 pounds of paper, or 6.5 copies of War and Peace this term! While War and Peace may seem like an arbitrary measure, it's actually a useful representation of how much content our students have contributed. In the chart below, you can see how this year stacks up over the course of our program's history.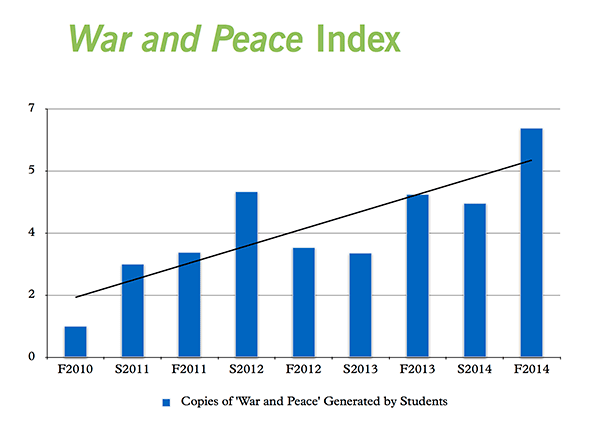 Our newly hired on-staff Wikipedia Content Experts ensured students and instructors received timely feedback from experienced Wikipedia editors. They've also helped us develop a more reactive and responsive team to help instructors, students, and the community when it comes to identifying and resolving problems when they arose. While not every student added high quality content, the vast majority did, and Wiki Ed staff are working hard to ensure courses for spring 2015 add even more high-quality content to Wikipedia.
Helaine Blumenthal
Classroom Program Manager