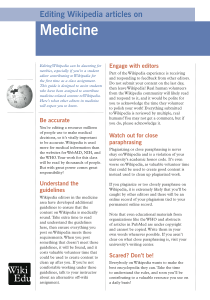 We're proud to announce the publication of our second subject-specific handout, Editing Wikipedia articles on Medicine. This handout joins Editing Wikipedia articles on Psychology in our series of brochures designed to illuminate the nuanced writing and editing guidelines in these subject areas.
The medicine brochure, in particular, covers suggestions for writing quality medical articles, including proper citations and sourcing methods.
The Medicine handout was produced with significant input from the WikiProject Medicine community, particularly Lane Rasberry (User:Bluerasberry). We're very grateful for their contributions.
You can find the handout on our For Instructors page, and on Wikimedia Commons. If you are an instructor seeking print copies for distribution to your students, we can help: email us at contact@wikiedu.org.