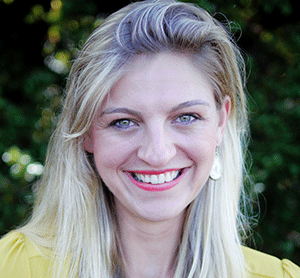 I am happy to announce Samantha Erickson as our new Outreach Manager. Samantha joined the Wiki Education Foundation in mid-November to take the lead in the design and implementation of our pilot program, which aims to reach high-achieving university students and encourage them to contribute to Wikipedia.
We believe that there are ways of engaging students in the improvement of free knowledge outside of the classroom, and we think of high-achieving students as an attractive target group when it comes to recruiting new content contributors. That's why we've embarked on this experimental pilot project that will explore ways of encouraging high-achieving students to engage with Wikipedia through extracurricular activities.
As an organization devoted to ongoing learning, pilot projects like this offer a unique opportunity to try new and exciting approaches, while staying true to our focus of improving Wikipedia's content.
Samantha earned two BAs, in English and communication, at UC Davis, and completed her Master's in education from UC Berkeley in 2013. In her spare time, she enjoys reading and traveling, especially for music festivals. She is an avid Giants fan, and more generally, a lover of baseball parks – she's been to 18 US ballparks with a goal of visiting "30 before 30."
Frank Schulenburg
Executive Director