"So often, we hear that girls in science need more role models and inspiration. We're asked, 'Where are the women in science?', as if we're not already here."

– Dr. Maryam Zaringhalam and Dr. Jess Wade, Nature
500 Women Wiki Scientists is a project between Wiki Education and 500 Women Scientists to increase visibility of women in Science, Technology, Engineering, Math, and Medicine (STEMM) through Wikipedia's vast reach. Since May 2020, we've partnered to improve Wikipedia's coverage of women and other historically excluded scientists. 500 Women Scientists has given 75 members—predominantly early career scientists—the opportunity to work with Wiki Education's Wikipedia experts to learn how to join the Wikipedia community and ensure the encyclopedia reflects the most accurate and equitable representation of STEMM.
In three Wiki Scientists courses to date (with a fourth one starting this week), scientists affiliated with 500 Women Scientists have collaborated with each other and Wiki Education's team to add and expand STEMM biographies on Wikipedia. Over 6 weeks, they've learned how to use Wikimedia projects as tools in their work to preserve and share knowledge with the public. By embedding Wikipedia know-how within their institution, 500 Women Scientists has developed a network of Wikipedians to continue this important work both through their own editing and through coordinating Wikipedia-editing events.
This is the story of how this group has become an integral part of the Wikipedia movement, and how other organizations can make that happen for their faculty, staff, or members.
There are two key components to this ongoing project:
1.  we expand public knowledge of notable scientists who have been historically excluded from the narrative;
2. scientists learn how to edit Wikipedia, later applying their learning outcomes to teach others.
1) The public benefits from more inclusive information about scientists
The US Department of Education says that women earn 57.4% of bachelor's degrees and 62.6% of master's degrees. But only 31% of degrees and certificates in STEMM fields go to women.
This gap has an uneasy, well-known counterpart on Wikipedia. Roughly 83.7% of the volunteers writing Wikipedia are men. It's perhaps no coincidence that Wikipedia's biographies of women are often lacking in quality (sometimes highlighting a woman's work through her husband's career), and some are missing altogether, as only 19% of biographies on Wikipedia are of women. Wiki Education and 500 Women Scientists celebrate the idea that access to knowledge is a game-changer. We believe the same holds true for young future scientists. The gap in Wikipedia's coverage of women reflects worrisome stereotypes of women in science, especially when we know that women already "do groundbreaking work and pave the way for more like them to join the ranks of the scientific workforce," as Dr. Maryam Zaringhalam of 500 Women Scientists puts it.
That's where the 500 Women Wiki Scientists come in. The participants in our courses have added more than 373,000 words to Wikipedia, primarily to biographies, and they've created 92 brand new articles. This is a feat for any group, but especially first-time editors who are new to Wikipedia's technical and procedural nuances. They're able to do this work because the publications about these scientists' work already exist—notice they've added 1,400 references—but nobody else has taken the initiative to add it in to Wikipedia.

Participants' hard work has reached over 7 million people curious to learn more about these scientists. Now, anyone with access to the internet can learn about Jean Langenheim, a plant ecologist and pioneer for women in the field. Perhaps they'll read about Angela Christiano, a molecular geneticist whose research shows promise for treating hair loss, or Mercedes Concepcion, a Filipino social scientist whose outstanding work in population studies in Asia has earned her the nickname "Mother of Asian Demography."
Thanks to the 500 Women Wiki Scientists, there are dozens of other stories like this now waiting for the world to discover them. We're excited to continue this partnership, sharing stories that better represent the existing diversity among scientists, especially to encourage even more diversity in the coming generations. As Dr. Maryam Zaringhalam and Dr. Jess Wade have said, "If we can inspire enough editors to take to Wikipedia and fill in the gaps forged by gender bias, we will improve our scientific record, celebrate the outstanding science done by scientists from underrepresented groups and, maybe, inspire a new generation of girls in science who can find stories of girls just like them who grew up to do and discover incredible things."
2) Wiki Scientists courses teach scientists how to edit Wikipedia, and a
lumni pass their new skills to other newcomers
Over 6 weeks, Wiki Education's team of Wikipedia experts facilitates collaborative group sessions among 500 Women Scientists' members to immerse them in Wikipedia's technical, procedural, and cultural practices. Wiki Education helps these scholars incorporate published information about notable and underrepresented scientists from their field of study to Wikipedia.
Upon course completion, participants receive a shareable, electronic certificate issued by 500 Women Scientists and Wiki Education, designating them as 500 Women Wiki Scientists. At this stage, they have developed the technical skills and Wikipedia know-how to disseminate their knowledge to the public and facilitate Wikipedia-editing activities among their peers.
We're proud of our Wiki Scientists course curriculum and the ability to bring "newbies" into the community in a relatively short period, and we're especially thrilled with how much participants enjoy the whole experience. One participant said, "I was hoping to create two new Wikipedia pages – which was a huge stretch for me, since I had very limited editing experience before this program. I ended up creating three pages and participated in two additional edit-a-thons during the program. I plan on continuing to edit and make contributions. The course set me up to succeed." When asked how they would describe the benefit of learning how to edit Wikipedia to someone else, another participant said, "Having the tools to contribute and improve one of the most visited sources of information is pretty empowering. Especially if you have a niche you're excited to work on/learn more about. Editing Wikipedia is also a good exercise to become a better writer."
And, of course, we love seeing that all post-course survey respondents reported satisfaction and that they would recommend this course to a colleague.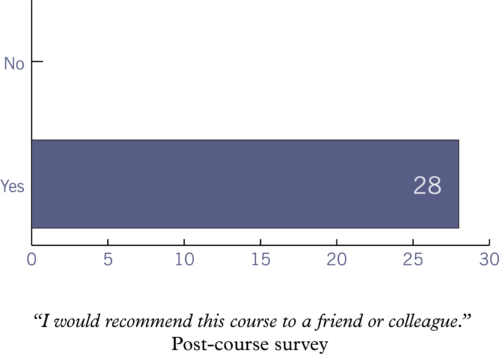 To date, we have trained 55 members of 500 Women Scientists how to edit Wikipedia, and we're starting a new course this week, which will bring 20 new scientists into the community. The new cohort will join their peers in moderating virtual events to bring more scientists to Wikipedia. Check out their ongoing impact as they train others how to add biographies of historically excluded scientists to Wikipedia.
How organizations can partner with Wiki Education around a training course
Amplify reliable information to the public
Our team works personally with organizations like 500 Women Scientists to set up Wikipedia and Wikidata training courses that align with their mission and expand the public's access to high quality knowledge. In conversations with one of 500 Women Scientists' executive leaders, Dr. Maryam Zaringhalam, we identified what Wiki Education could help their members achieve, and we built the first course to ensure it would be an excellent learning experience for 500 Women Scientists' participating members and would contribute to the public scholarship about women in STEMM.
Give your team the skills they need to train others
500 Women Scientists has been active for a few years in running Wikipedia edit-a-thons, events where trained Wikipedia editors guide interested newcomers through the early stages of contributing content to Wikipedia. Though they originally held events in regional "pods," the COVID-19 pandemic shifted their events into a virtual space. These events proved engaging for members and have long had a high turn-out, but we determined that a more in-depth Wiki Scientists course would provide a deeper learning experience for anyone who prefers structured assignments and milestones as a part of their learning process. That way, 500 Women Scientists could expand their pool of members who were competent in Wikipedia editing and confident enough to train others, thus passing on their new skills to other members.
Help make open knowledge more inclusive and equitable
500 Women Scientists' mission to make science more inclusive aligns with Wiki Education's initiative to make Wikipedia more equitable. Not only do their members bring more inclusive content about scientists to the public through Wikipedia, but they represent a much more diverse group of editors than the existing community on English Wikipedia.
98% of the 500 Women Wiki Scientists alumni report their pronouns as "she/her" or "they/them," which means this partnership is bringing more diverse voices to Wikipedia, as the existing editor base is 83.7% men. Additionally, we can compare the reported race and ethnicity of Wiki Education's participants in the 500 Women Wiki Scientists courses to the Wikimedia Foundation's 2021 Community Insights Report and see how much more racially diverse the 500 Women Wiki Scientists are compared to the existing Wikipedia community within the United States.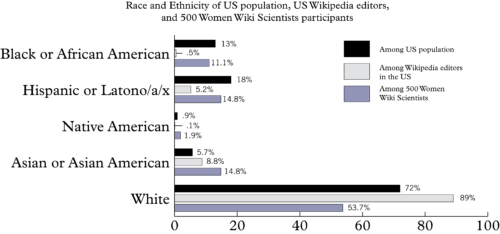 Join our movement!
Together, 500 Women Scientists and Wiki Education are working together to improve Wikipedia's breadth, quality, and equity. We're eager to continue this work, both with 500 Women Scientists and other partners. 500 Women Scientists has sponsored 75 seats since May 2020, creating a free, engaging learning opportunity for their members. This unique, fun professional development experience is fulfilling for scholars as they share knowledge with the world, and we can't wait to bring more subject-matter experts into our community.
If you're interested in beginning a conversation about buying out a customized course for members or staff of your organization, contact us at partner@wikiedu.org.