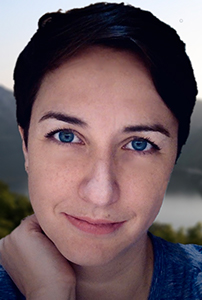 Anne Chen is a postdoctoral associate at Yale University, trained as an art historian and archeologist. She participated in our July 2020 Wikidata Institute course, where she discovered the practical applications of Wikidata in her own work and classroom. 
Chen offers a useful perspective to the Wikidata platform and course program as an academic and art historian. Her experience with Wikidata is one of many that uncovers the connections between convenient data organization and the humanities -— how understanding a platform like Wikidata can enrich experiences in art and academia.
Considering the useful interface of Wikidata built upon Linked-Open-Data (LOD), Chen, upon a colleague's recommendation, signed up for her first course with Wiki Education last summer.
"I was looking for a way to harness the power of LOD to mitigate some of the challenges that we face in my discipline, but to do so with a relatively low technical barrier so that I could do the work I had in mind without the full-time help of a specially-trained data manager," Chen says.
Having learned Wikidata to overcome the challenges within her discipline, Chen has also developed new strategies to help guide students in using the platform on their own. 
"The low-barrier to entry was also important in thinking about how I might be able to integrate something related to LOD's potential for cultural heritage fields into a humanities classroom where students may not necessarily have coding skills and high-end technical experience," Chen says.
Chen's individual contributions to Wikidata, grew alongside her competency with the platform. 
"I began by editing already extant Wikidata items connected to a predetermined academic research interest. First I added citations and additional bibliographic items to extant statements on those extant items, then I added additional statements with citations based on my areas of expertise," Chen says.
It wasn't long before Chen got her bearings, and began experimenting more with ways to contribute to and tune up Wikidata.
"Once I had gained some confidence with how things worked, I began creating new items related to my topic that enriched the specific topic area I was interested in: the archaeological site of Dura-Europos, Syria," Chen says. 
Chen's participation in the Wikidata Institute course has helped her progress as a Wikidatan, and several aspects of the course helped her reach this level of proficiency. 
"The Wikidata course provided the confidence and community to get me started. It probably would have been more difficult to take the plunge and just dive into editing in order to learn by doing had my instructor not reassured us that that's how everyone learns," Chen says.
The delivery of the course, with emphasis on accessibility and trial-and-error, solidified Chen's mastery of Wikidata. After participating in the three-week class, Chen was able to attain the goals she set upon joining. 
"The course firmed up my understanding of LOD in really accessible language, and with didactics that made what can be a difficult concept to grasp much more intelligible. And it was helpful to have a relationship with our wonderful instructor who we could turn to with questions or tap for advice both while taking the class, and in the months since," Chen says.
Since completing the course, Chen has gone on to launch the Yale Digital Dura-Europos Archive (YDEA), which uses Wikidata to enable the reassembly and recontextualization of artifacts excavated at the important ancient archaeological site of Dura-Europos.
From a historical standpoint, Chen stressed the urgency of open-access archival data, which Wikidata has helped her to facilitate and organize.
"I think it's an important way that museums, especially western museums that have benefited from colonialist dynamics in their collecting practices, but really any museum, can make real strides in their diversity/inclusion/post-colonial efforts by democratizing and globalizing access and inviting community collaboration," Chen says. 
Surrounded by a supportive community of Wikidatans and introduced to a new archival approach, Chen's work serves as a testament to both the Wikidata platform and course programs. 
To enroll in a Wikidata Institute course like the one Anne took, visit wikiedu.org/wikidata.
Hero image credit: Yale campus by Sage Ross, CC BY-SA 2.0
Image of Anne credit: Ahc84, CC BY-SA 4.0, via Wikimedia Commons