Highlights
Wiki Education hosted 2019's first in-person board meeting in the Presidio of San Francisco in late January. On this occasion, board and staff celebrated Wiki Education's fifth anniversary.
We started third round of our Wiki Scholars professional development course with the National Archives and Records Administration (NARA). Ten people from a wide range of backgrounds have come together to learn to share their knowledge with the public through Wikipedia.
In January, Wes Reid joined the Technology department as Wiki Education's first Software Developer.
Programs
Wikipedia Student Program
Status of the Wikipedia Student Program for Spring 2019 in numbers, as of January 31:
290 Wiki Education-supported courses were in progress (176, or 61%, were led by returning instructors)
5,083 student editors were enrolled
70% of students were up-to-date with their assigned training modules
Students edited 715 articles, created 35 new entries, and added more than 209,000 words to Wikipedia.
As always, January saw a flurry of course pages coming through on the Dashboard. Wikipedia Student Program Manager Helaine Blumenthal spent the majority of her time ensuring that all of Wiki Education's Spring 2019 courses are set up for success. This meant welcoming back returning instructors and providing that bit of extra support to first-time participants in the Student Program.
Students are enrolling on the Dashboard and getting their feet wet as they learn to navigate what's likely the most familiar, unfamiliar site on the web.
Student work highlights:
There are always people making new innovations in the world of science, as University of Michigan students in Kush Patel and Anne Cong-Huyen's class Digital Pedagogy with U-M Library could tell you. One article that they have created so far is the one on Alison R.H. Narayan, a William R. Roush assistant professor at the Department of Chemistry in the College of Literature, Science, and the Arts at the University of Michigan. A Michigan native, Narayan engineered cytochrome P450 enzymes to perform C-H functionalization in not native substrates during her postdoc and for her doctoral thesis she wrote "New Reactions and Synthetic Strategies toward Indolizidine Alkaloids and Pallavicinia Diterpenes". Her work has been recognized by such major organizations as the American Chemical Society, who named her one of their "Talented 12" in a 2016 issue of Chemical & Engineering News, and by the Research Corporation, who made her one of their 2019 Cottrell Scholars.
The class also expanded the article on Melanie Sanford, a chemist who also teaches at the University of Michigan and holds the positions of Moses Gomberg Collegiate Professor of Chemistry and Arthur F. Thurnau Professor of Chemistry. She earned her BS and MS at Yale University and went on to gain her Ph.D. from the California Institute of Technology, where she worked with future Nobel Prize recipient Robert H. Grubbs. Sanford followed this up by performed her postdoctoral work at Princeton University. Her work has been recognized by numerous organizations, earning her awards and accolades such as the Royal Society of Chemistry Fluorine Prize and the prestigious MacArthur Fellowship!
While Wikipedia has a goal of holding the sum of human knowledge, it still isn't there yet – which is why it's so important for people to contribute their time and effort to expand articles on not only the very well known topic areas, but those that have not yet reached common knowledge world-wide. Areas like Ongamira may not be as much of a household name as say, Paris, but it holds just as much of a treasure trove of history and culture. Ongamira is a valley near the city of Córdoba, Argentina that contains caves and grottoes of immense archaeological and natural significance. The valley was formerly home to the Comechingones, who settled in the region. Many of them died as a result of battles over the land between the Comechingones and Spanish forces led by conquistadors such as Blas de Rosales, who was granted the lands by Jerónimo Luis de Cabrera. Thanks to efforts by a Paradise Valley Community College student in Kande Mickelsen and Sheila Afnan-Manns's spring course, this historic valley now has an article on Wikipedia.
Scholars & Scientists Program
This month we started a new round of our Wiki Scholars professional development course with the National Archives and Records Administration (NARA). Ten people from a wide range of backgrounds have come together to learn to share their knowledge with the public through Wikipedia. In particular, we will focus on improving articles about women's suffrage in the United States in advance of NARA's upcoming exhibit, Rightfully Hers, which will be opening in Washington, DC in May 2019.
Participants are in the process of selecting their first of two articles to improve. Most will be expanding the articles on prominent (as well as less prominent) suffragists. The first step is exploring areas for opportunity, then participants conduct an evaluation of the articles while learning how to edit Wikipedia and becoming familiar with its policies and guidelines. Finally, the editing begins, improving the articles with resources from NARA and elsewhere.
Here are some of the articles current Wiki Scholars have chosen to improve: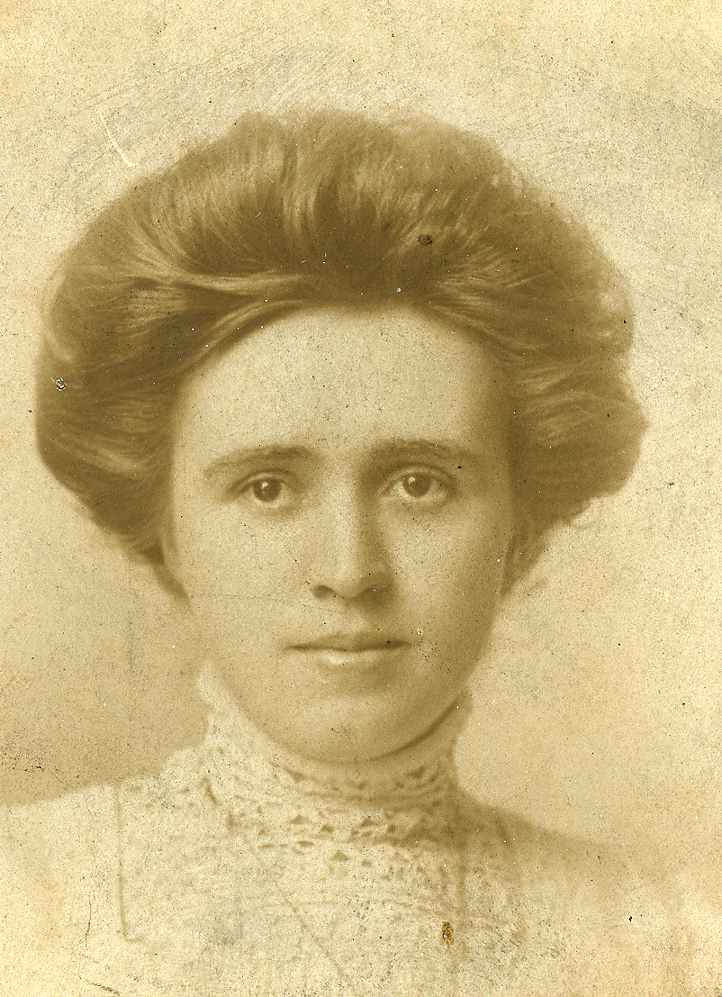 Visiting Scholars Program
This month Visiting Scholars contributed several high-quality articles to Wikipedia, including both a Featured Article (FA) and a Good Article (GA). These designations are reserved for the highest quality articles and require peer review to ensure they meet strict criteria.
In 1971, West German stamp dealer Hermann Sieger secretly paid the Apollo 15 astronauts, David Scott, Alfred Worden, and James Irwin, to bring 400 unauthorized postal covers to the surface of the Moon, to be sold on their return. Worden had already received permission to take 144 other covers with him for a stamp collector friend, based on the understanding they would not be sold until after the Apollo program ended. The covers were postmarked the morning of the launch and again after splashdown. When NASA learned Worden's friend was selling the covers, they warned the astronaut about commercializing their activities. When they learned about Sieger, the three were reprimanded, removed as backup crew members for Apollo 17, and required to give the money back. These events are known as the Apollo 15 postal covers incident, an article developed by George Mason University Visiting Scholar Gary Greenbaum, using resources from the GMU library. Gary brought the article to Good Article level last year, and continued his extensive work on it before it was finally promoted to Featured Article this month.
Hortensius (On Philosophy) is a lost dialogue written by Cicero in 45 BCE. One might think that a dialogue that's been lost since the 6th century might be difficult to write a Wikipedia article about. Paul Thomas, Visiting Scholar at the University of Pennsylvania, did just that, bringing it up to Good Article quality. The work was notable at the time and scholars have developed a picture of its content and style based on other writings. It is said to have inspired such important historical figures as Seneca the Younger, Tacitus, Boethius, and even Augustine of Hippo. It's through the writings of the latter, as well as Nonius Marcellus and others, that we have what pieces of the dialogue still remain.
Rosie Stephenson-Goodknight, Visiting Scholar at Northeastern University, wrote an impressive 14 articles about women writers this month, including the creation of articles about 12 women who previously were not represented on Wikipedia. For example, Emily Parmely Collins (1814–1909), a suffragist, women's rights activist and writer. She established the first suffragists' society in 1848: the Woman's Equal Rights Union. Frances Manwaring Caulkins (1795–1869) was a historian and genealogist who wrote histories of town in Connecticut. She was elected to be a member of the Massachusetts Historical Society in 1849, and was the first woman to join. Rosa Louise Woodberry (1869–1932) was a journalist, educator, and stenographer. Her philosophy and science writing appeared in journals around the country and she was on the staff of both The Augusta Chronicle and Savannah Press.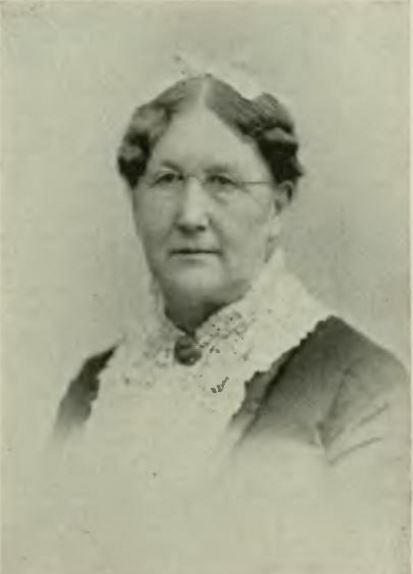 Advancement
In January, the Advancement Team began implementing its newly established charter by establishing regular team meetings, enacting team norms, and identifying/documenting team policies and processes.
Fundraising
In January, we received our first installment, totaling $233,000, of the $400,000 Annual Planning Grant from Wikimedia Foundation's Fund Dissemination Committee. Chief Advancement Officer TJ Bliss had calls and dinner meetings with several potential new funders, all of which asked for concept notes or other follow-up documents. TJ also developed a draft proposal for a funder briefing on Wikipedia, hosted by one of our major funders. This briefing will help build awareness about the importance of Wikipedia to furthering philanthropic efforts generally. TJ and Director of Partnerships Jami Mathewson visited the Stanton Foundation in Boston, gave an oral report on our current work, and requested funding for a Scholars and Scientists course related to public policy. Jami also visited with Program Officers at the Simons Foundation in New York City and described our Wiki Scholars and Scientists efforts and our interest in Wikidata. Customer Success Manager Samantha Weald continued her research and identification of new funders and began drafting outreach letters.
Scholars & Scientists partnerships and collaborations
Samantha worked closely with new participants in our NARA Scholars & Scientists course to ensure their needs were met as they began the course.
At the end of the month, TJ and Jami presented to faculty at the Massachusetts Institute of Technology, sharing collaboration opportunities to share high quality open knowledge via Wikipedia.
Communications
January 15th was Wikipedia Day, a day of reflection and celebration for the Wikipedia community across the globe. We published a year in review blog post about what we've accomplished since this day last year. We were also featured in The Washington Post in a piece by Stephen Harrison celebrating Wikipedia's 18th birthday. Later in the month, the National Institute for Occupational Safety and Health recognized our Wikipedia Student Program (and specifically a course we support at the Harvard T.H. Chan School of Public Health) as an effective way to make occupational safety information available to the public.
Blog posts:
External media:
Engaging Women's History through Collaborative Archival Wikipedia Projects. Rotramel, A., Parmer, R., Oliveira, R. Journal of Interactive Technology & Pedagogy.14. (January 7)
Happy 18th birthday, Wikipedia. Let's celebrate the Internet's good grown-up. Stephen Harrison, Washington Post (January 15)
NIOSH, Wiki Education Foundation, and Harvard University Work Together to Make Occupational Safety and Health Content Accessible to All, Diana Ceballos, Thais Morata, and John P. Sadowski, NIOSH Science Blog (January 24)
Technology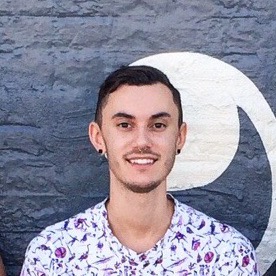 In January, Wes Reid joined the Technology department as Wiki Education's first Software Developer. Our focus was to bring Wes up to speed on the breadth of our codebase and the broader Wikimedia technology ecosystem, and to prepare for the major technical projects on the horizon. We also had a bevy of volunteer contributions this month, including a large set of improvements to our test suite and a final set of enhancements to enable complete translation of the Dashboard's training modules.
In addition to fixing numerous bugs, Wes improved the course approval workflow so that we can more easily keep track of new instructors and how they found out about the Wikipedia Student Program. At the end of the month, Wes and Chief Technology Officer Sage Ross also began transferring Programs & Events Dashboard to a new server for the first time since it was set up in 2015; the operating system on the original server was deprecated for use on the Wikimedia Cloud platform, and would have become inaccessible soon. (The transfer was completed, with minimal downtime, in early February.)
Outreachy intern Cressence continued her work on the event creation workflow, which now lets users of the global Programs & Events Dashboard choose which type of program they are running, with detailed explanations of the differences. Now she's turning her attention to the start and end date interface, which has been a frequent point of confusion for global Dashboard users.
Finance & Administration
The total expenses for January were $213,000, entirely on target for the budgeted $213,000 amount. The Board meeting occurred in January; however, the budget split the costs between January and February. Where we see an overage in January for the Board, this will balance out in February, where an additional $9K is allocated and will not be used. General and Administrative costs were over budget, a combination of overages in Furniture and Equipment-$5K and Indirect Expenses-$13K, while spending under budget ($4K) Staff meeting, ($8K) Professional Services and ($1K) Rent. Programs were very close to budget, under ($2K). And Technology was under budget ($10K), Payroll ($3K), Professional Services (5K) and Occupancy Costs ($2K).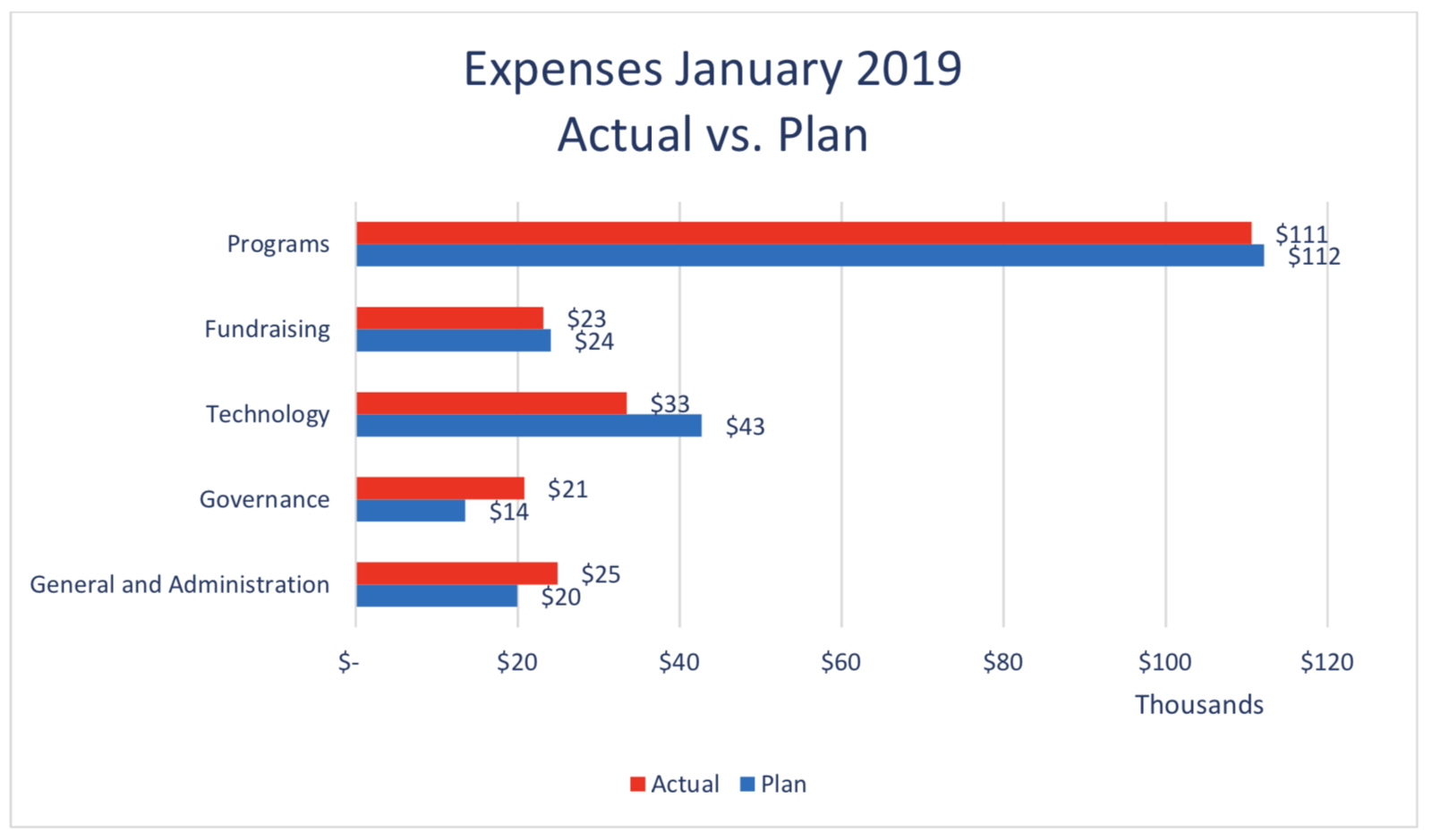 The Year-to-date expenses are $1.2M ($240K) under budget of $1.44M. We expected that Fundraising would be under by ($160K) due to a change in plan for professional services ($149K) and deciding not to engage in a cultivation event ($11K). Programs were under ($56K) due to a few changes in processes-professional services ($17K), Travel ($28K), Printing and Reproduction ($11K).) Communication ($4K) and Indirect expenses ($21K) while reporting an overage in Payroll-$21K and furniture and equipment-$4K. General and Administrative are under ($23K) due to a reduction of payroll ($14K) and professional fees mostly relating to Audit and Tax prep ($13K) and administrative costs ($8K) while spending over budget Occupancy-combined direct and indirect-+$11K and Travel $2K. As mentioned in the January report, the Board was over budget for January, due to expense accrual, and will be under budget, come February. Technology is under budget by ($15K) as there was a change in plans in utilizing the budgeted professional fees ($17K) and additional rent ($5K) and instead increased their payroll -$3K and Furniture and equipment-$4K.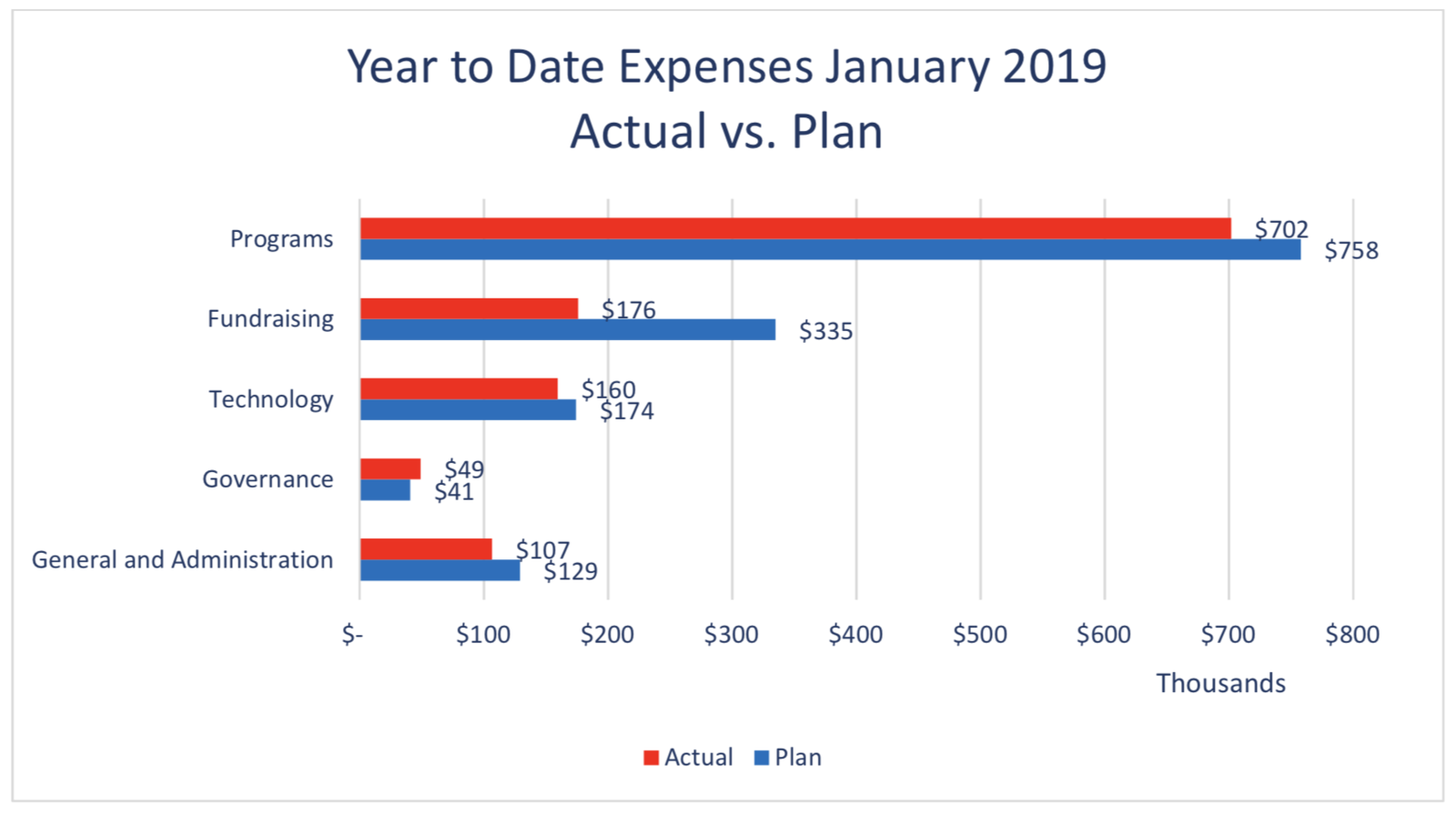 Office of the ED
Current priorities:

Coordinating and overseeing work on the Annual Plan & Budget for FY 2019/20
Improving the organization's resilience to staffing changes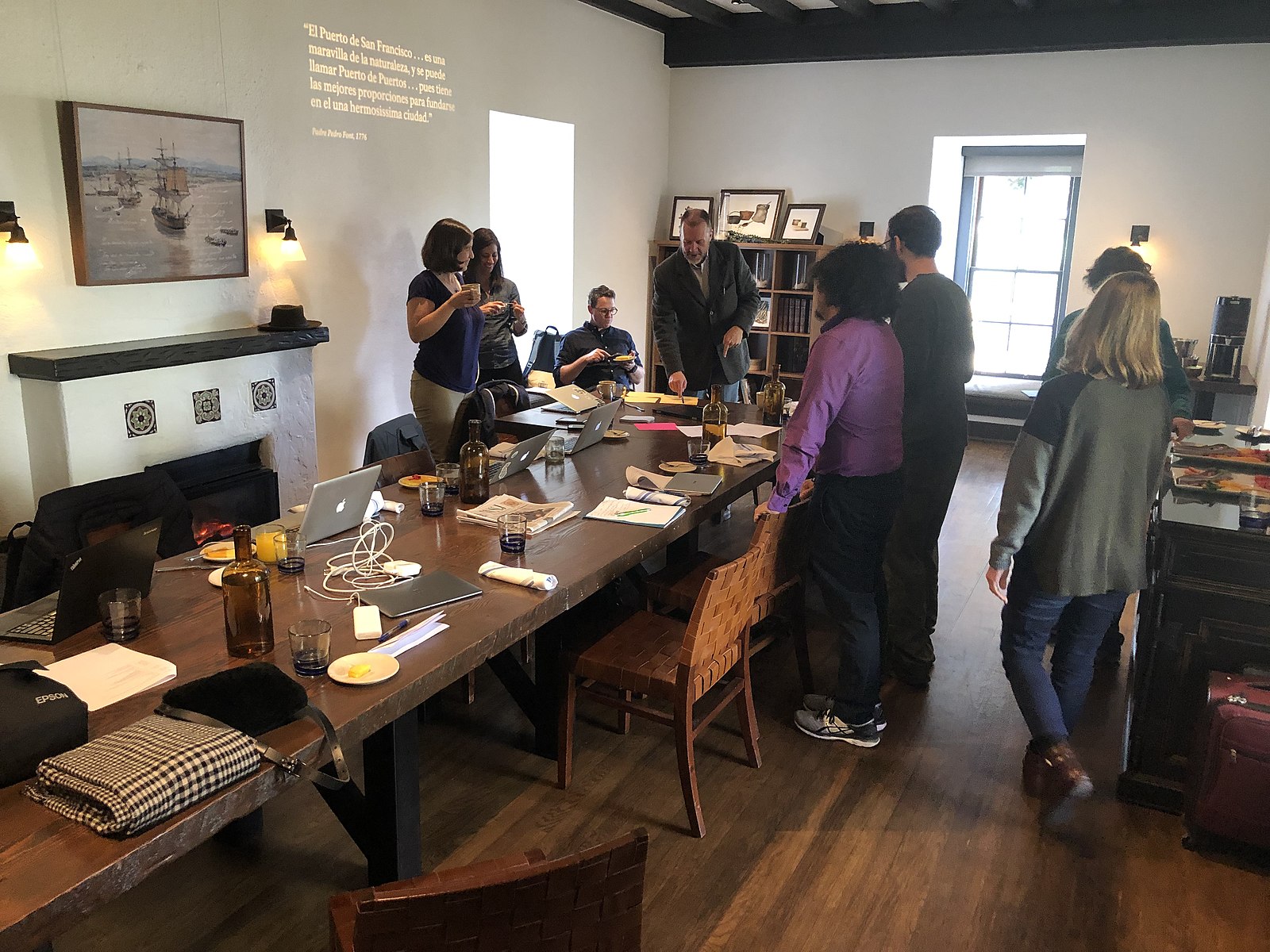 In January, Executive Director Frank Schulenburg worked with our auditors from Hood & Strong on finalizing our audit for fiscal year 2017/18. This year's audit is our fourth voluntary audit since 2015 and the board approved the audit report during its in-person board meeting on on January 25. Once our work on form 990 will be done, we'll publish both the report from Hood & Strong as well as form 990 on our website.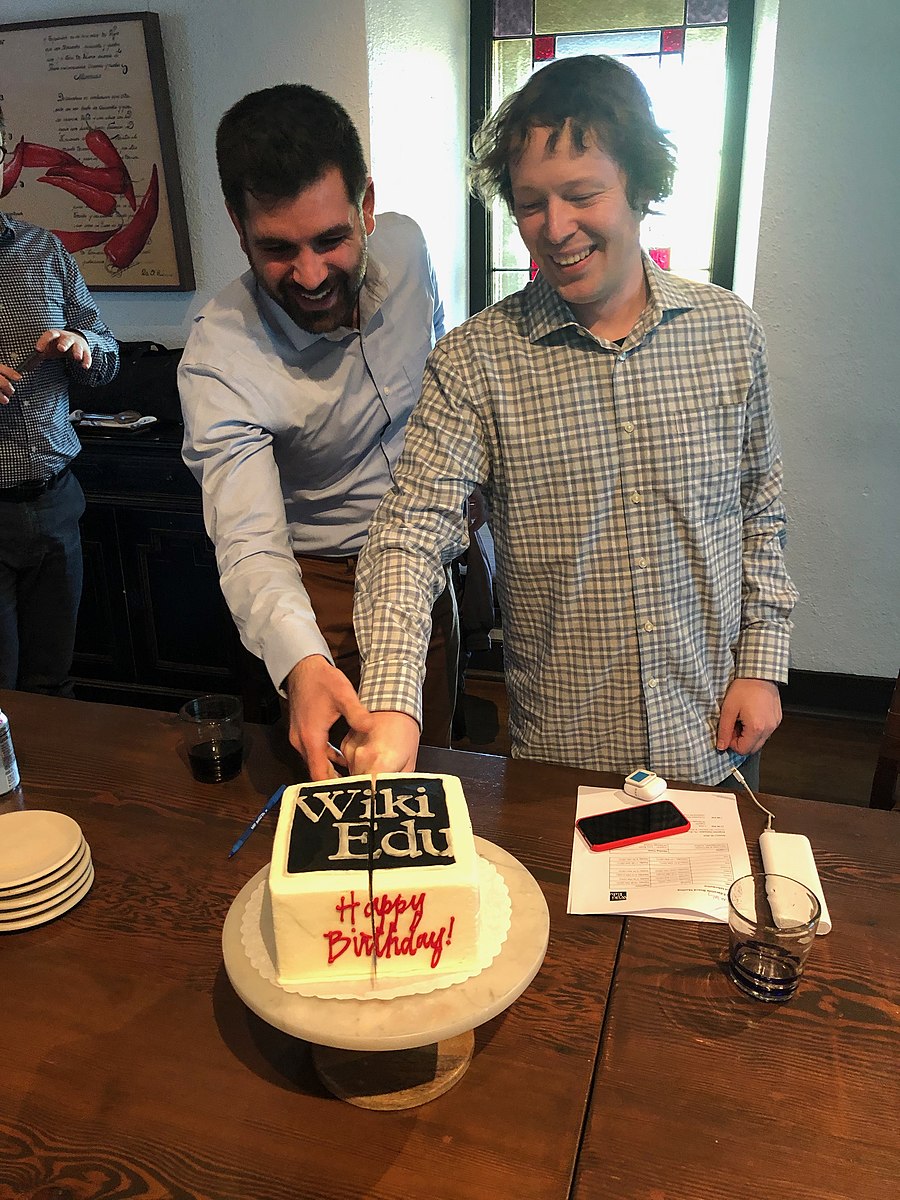 As in former years, January is the month for one of our two in-person board meetings. The meeting serves at looking back at the organization's performance during the first half of the current fiscal year and at providing the board with a high-level understanding of what to expect for next fiscal year. The meeting kicked off with Frank looking back at five years of Wiki Education (Wiki Education officially started operations in mid February 2014.) TJ then walked the board through our current fundraising efforts and also provided an analysis of our work in opening up a second revenue stream through our fee-for-service based Scholars & Scientists Program. Chief Programs Officer LiAnna Davis provided the board with an update on programs while outlining how our current and future activities connect to the organizational strategy approved by the board in June last year. LiAnna also shared that Wiki Education now brings 19% of all new contributors to the English Wikipedia and 9% of all new Wikipedia editors globally. Sage walked the attendants of the meeting through a presentation that outlined how our digital infrastructure supports our own program participants as well as program leaders in other parts of the world. As this was Sage's first presentation at a board meeting, he also walked the board through his general philosophy behind making our Dashboard adaptable and sustainable. On the evening of the first meeting day, board and staff joined the crowd at the Internet Archive to celebrate Public Domain Day 2019. The second day of the board meeting was dedicated to a longer discussion about new board member recruitment and a report from board member Richard Knipel about new developments in the U.S. Wikimedia landscape. This in-person board meeting was the first to take place in the Presidio, where Wiki Education's office is based.
On the evening prior to the board meeting, board member Ted Yang led a staff education event at Wiki Education's office around the topic of "Planning for retirement." This event kicked off our new effort of providing staff with education around topics that are relevant to their employment and life planning.
Also in January, Frank met virtually with Jens Ohlig and Nicola Zeuner from Wikimedia Deutschland, the German chapter of the Wikimedia Foundation. With Wikimedia Deutschland being the organization responsible for the technical infrastructure of Wikidata and Wiki Education planning on providing Wikidata-related trainings, the two organizations decided to collaborate more closely. As more and more people in the U.S. get information through Wikidata instead of through Wikipedia due to the rise of virtual digital assistants (that rely heavily on structured data), Wikidata will play a more prominent role in Wiki Education's future programmatic offerings.
* * *