On August 10, Outreach Manager Samantha Weald and I hosted a workshop in Montreal alongside the pre-conference workshops for Wikimania 2017. This four-hour workshop offered an opportunity for Wiki Education to connect deeply with new instructors and university faculty members in the area who were interested in learning more about teaching with Wikipedia. Since we ran the event the day before Wikimania, the annual global conference for Wikipedia contributors, we had a unique audience of instructors and librarians with varied experiences using the encyclopedia.
Each attendee brought their perspective to the table, leading to robust conversations about how to use Wikipedia as a teaching tool in the classroom.
Helping students overcome challenges of a Wikipedia assignment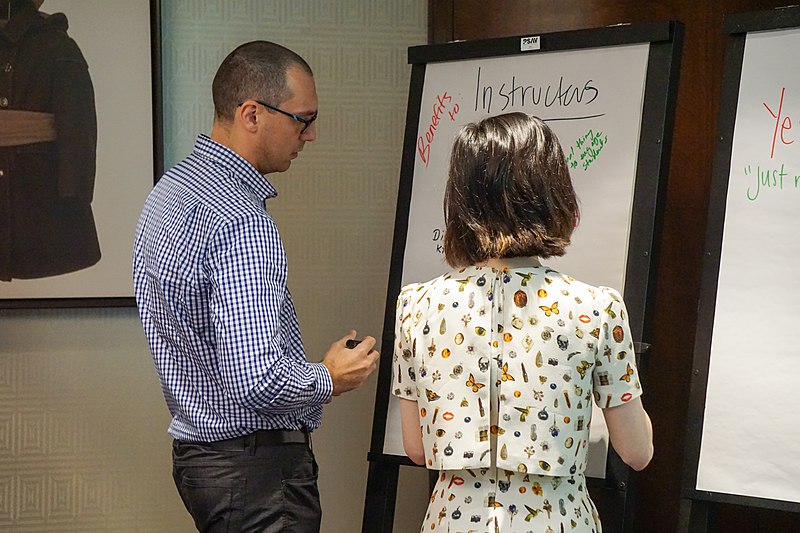 After participants learned more about how Wikipedia works, we asked them to consider the challenges students may face during a Wikipedia assignment. Some mentioned the need for students to learn new technical skills to edit Wikipedia. One person wanted more help guiding students to communicate with other Wikipedia editors. Mostly, though, attendees believed directing students toward appropriate topics and Wikipedia articles would be a big challenge.
I regularly hear interested instructors ask this question of how to direct students toward good articles to work on. The good news is, we have built tips into our course timeline template and have developed a training module about selecting appropriate topics. Generally, if students select a topic related to the course readings that is already on Wikipedia as a Stub or Start-Class article, they should be in good shape. It's also important for instructors to consider whether they want to allow students to propose a topic—which the instructor should always approve before students begin the bulk of their research—or if they want to provide a list for students to choose from. Both options provide a different value for the students and Wikipedia, so instructors should base this decision on expected student learning outcomes.
Engaging students with a meaningful assignment
Workshop participants also shared the benefits they believe a Wikipedia assignment gives students. During an activity to identify potential benefits, they listed the following as reasons to join Wiki Education's Classroom Program:
Asking students to consider different points of view
Improving information literacy and digital skills
Writing for a larger audience
Learning how to write with a neutral point of view
Understanding the pros and cons of Wikipedia as an information source
Learning to be critical when using Wikipedia (and all sources)
Listing their new skills on a CV
Being motivated to work on something that is not "wasted" at the end of the term
To learn more about student learning outcomes during a Wikipedia assignment, see our report from a fall 2016 study. We thank our attendees for joining in on important dialogues about using Wikipedia in the classroom. If you'd like to teach with Wikipedia or host a similar workshop on your campus, email contact@wikiedu.org.