Highlights
Wiki Ed welcomed two new staff in May, bringing our total to 13. Tom Porter has been hired as the Senior Manager of Development. Tom is responsible for securing financial support for our programmatic activities. We also officially welcomed Ryan McGrady, who had been serving as our interim Classroom Program Manager while Helaine Blumenthal was on maternity leave. Upon Helaine's return, Ryan officially joined the staff in a new role as Community Engagement Manager, running programs that connect Wikipedia community members to academic resources for their editing work.
The Spring 2015 term is nearly over, with students editing nearly 3,500 articles this term. After a few quarter system schools wrap up their work in June, we'll have a complete report on the spring term. Our Outreach to High Achieving Students Pilot also wrapped up this month, and a final report is underway.
Executive Assistant to the ED Renée Levesque secured the support of the National Archives in Washington, DC, for WikiConference USA. In this annual conference, Wikimedia community members, librarians, instructors, museum professionals, and others gather to share knowledge and experiences and build networks. The conference will take place on October 9–11.
Programs
Educational Partnerships
West Virginia University's libraries hosted a webinar featuring Educational Partnerships Manager Jami Mathewson and Dr. Adeline Koh. Jami presented Wikipedia's gender gap and ways students can improve Wikipedia through classroom assignments. Adeline shared her experiences teaching with Wikipedia, and some resources for instructors. More than 100 people participated online and in person.
In New York, Jami and Community Engagement Manager Ryan McGrady joined Association for Psychological Science (APS) staff at their annual convention. The partnership focuses on improving psychological content on Wikipedia. APS and Wiki Ed have identified types of courses whose students are a good fit for Wikipedia assignments.
These include:
graduate-level courses
400-level or capstone courses
assignments for Honors students
non-biomedical courses
At the APS conference, Jami and Ryan announced a new project, the "Wiki Ed Summer Seminar." This low-stakes online series will introduce psychologists to Wikipedia. We'll walk experts through the steps of contributing content to articles about psychology topics, discuss policies for biomedical editing (MEDRS), and explain potential conflicts of interest. We'll also review how to identify psychology content gaps.
Classroom Program
Classroom Program Manager Helaine Blumenthal returned from maternity leave in early May. Interim Classroom Program Manager Ryan McGrady came to San Francisco to get Helaine up to date on the work he'd done in her absence. We welcome back Helaine and thank Ryan for his excellent work this term.
Status of the Classroom Program for Spring term 2015 in numbers, as of May 31:
117 Wiki Ed-supported courses had Course Pages
55, or 47%, were led by returning instructors
2276 student editors were enrolled
1186 students successfully completed the online training
3429 articles were edited and 409 were created
The majority of classes for the spring 2015 term have wrapped up, and we are already gearing up for 6 summer courses and planning for the fall 2015 term!
At the beginning of the term, Wiki Ed created a course on-boarding checklist to ensure that all the classes we support have the potential to contribute quality work to Wikipedia. With the help of the checklist, the assignment design wizard, the course dashboard, and the hard work of Adam, Ian, Ryan, and Helaine, the term was a smooth one. We also attribute the success of the term to the high percentage of students (52 percent) who completed the online training. We made a strong push for students to complete the training, and made it easy for instructors to track whether students completed the training through the dashboard.
We've also redesigned our instructor survey to find the resources and support our instructors and students need most. The survey went out on June 1, and we're eagerly awaiting the results.
Student work highlights
Community Engagement
May 2015 saw the creation of our new Community Engagement program, and with it the hire of Ryan McGrady as Community Engagement Manager.
This program will develop initiatives that build on Wiki Ed's relationships with universities to empower the Wikipedia community build and develop Wikipedia's content.
Ryan spent the first two weeks conducting research and engaging in conversations with the Wikipedia community. These conversations will help identify needs in the community. That needs-finding research will guide our development of additional programs and activities in the following months.
Communications
In May, Wiki Ed finished a review and update to the vast majority of its print materials.
As part of that endeavor, we've expanded our Case Studies brochure from 16 to 20 pages with new course ideas, such as using Wikipedia for translation assignments, museums and archives work, and understanding knowledge production. We've made smaller revisions and improvements to other print materials in our catalog to keep them accurate, make them easier to understand, and keep images and screen shots up to date.
We've published two new subject-specific brochures this month, too. These brochures are specifically designed for students editing articles on women's studies topics, and ecology. These articles join our roster of subject-specific brochures, which had already included advice on editing Medicine, Psychology, and Sociology topics. All of these brochures are intended to help students understand how to edit Wikipedia in their own fields of expertise, using the language of their field and directing them to the specific resources and direction they're most likely to use as they complete an assignment.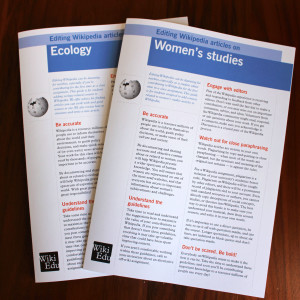 Work is underway on a Theories brochure, which will include academics who focus on Wikipedia as a way of exploring theoretical topics tied to knowledge production topics. That brochure will be published in June.
Redesigns weren't limited to our print materials. In late May, we redesigned our website to keep up a similar look across our online projects, such as Wiki Ed's blog, landing pages, and online tools. The first iteration of that project is now live! The new theme, designed and implemented by WINTR, will evolve a bit more in the next couple of weeks as we finish off a few rough edges of the new design. The code for this new WordPress theme, based on the Sage starter theme, is available on GitHub.
Blog posts:
Digital Infrastructure
In May, Product Manager Sage Ross and the development team at WINTR made major progress on Wiki Ed's new course page infrastructure, which will extend the dashboard to handle all the key aspects of creating, managing, and participating in a course. The new course creation system is live on our testing server. Just log in and click "Create course" to give it a try. You'll also see our latest design refinements and new course monitoring features, including an "Activity" view that shows the latest edits for a course.
The basic functionality of this new course system — our "minimum viable product" — will be ready by mid-June, when we'll start doing intensive user-testing to make sure the system works well for instructors and students. Contact Sage (sage@wikiedu.org) if you're interested in helping to beta-test the new course page features.
We also started a project to customize our Salesforce setup. We expect this to make it easier for Wiki Ed staff to keep accurate and complete records of the growing numbers of courses and instructors that are working with us or want to do so.
Research and development
Outreach to high-achieving students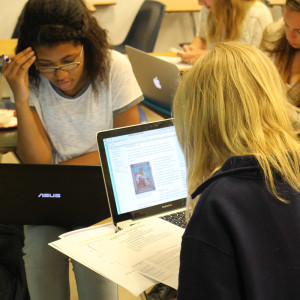 In May, Outreach Manager Samantha Erickson traveled to Santa Barbara to meet with the Art, Design & Architecture Museum Club at the University of California Santa Barbara, and to Oregon to meet with Portland State's Lambda Pi Eta club, and Oregon State's Hydrophiles and Pi Alpha Xi student clubs. She met with 20 new student editors and introduced them to wiki markup, Wikimedia Commons, and more. The trips aimed to educate students about Wikipedia editing and encourage student Wikipedia projects.
The Outreach to High Achieving Students Pilot wrapped up at the end of May. This term, we worked with 44 student editors, saw 44 articles edited, 1 article created, and 21 images uploaded by students. This data and more will be explored in our upcoming final report.
Finance & Administration / Fundraising
Finance & Administration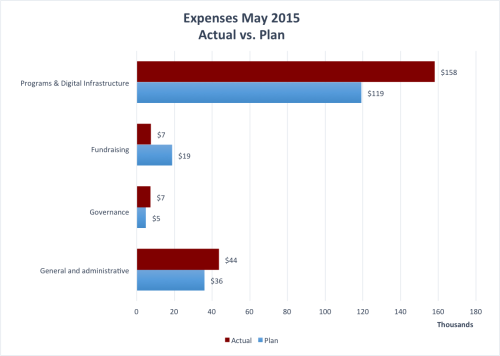 For the month of May, expenses were $216,245 versus the plan of $178,730. As was the case last month, the majority of the $38k excess in spending is attributed to new digital infrastructure projects associated with additional funding.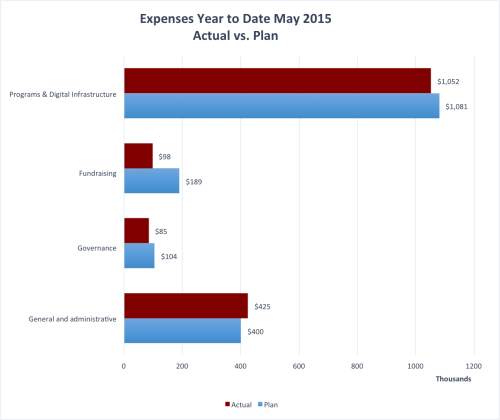 Year-To-Date expenses are $1,660,144 versus the plan of $1,774,890. In an effort to reduce our year-to-date variance, we have advanced the timeline for some of our projects. As a result, we have reduced our year-to-date variance from $152k to 115k. A majority of this variance continues to be the ongoing savings from the timing of staff hires and vacancies ($100k).
Fundraising
Wiki Ed is pleased to welcome Tom Porter to the position of Senior Manager of Development. Tom is responsible for ensuring continued financial support for the Foundation's new and existing programs. As part of the onboarding process, Tom met individually with all Wiki Education Foundation staff to develop a deep understanding of the roles and programs within the organization. Initial goals were established for FY14/15 year-end, and work has begun on annual reports for both of Wiki Ed's grants.
Tom is developing a comprehensive fundraising plan for FY15/16 and will focus on three key prospect groups: foundations, corporations, and major gifts from individuals. Additionally, Tom is working with Wiki Ed staff to explore fundraising opportunities for WikiConference USA, scheduled for fall 2015.
Office of the ED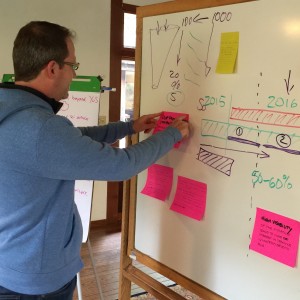 Current priorities:
Creating alignment within the Leadership Team around the plan for next fiscal year
Finalizing the first version of the annual plan and budget for FY 2015–16
Exploration of fundraising opportunities for major programmatic initiatives in 2016
Our main focus in May was the work on the annual plan and budget for FY 2015–16. Based on the outcome of the strategic planning process, Director of Programs LiAnna Davis, Director of Finance and Administration Bill Gong, Tom, and Executive Director Frank Schulenburg created the basic outline for next year. They also reviewed the outcomes of Wiki Ed's current work, and developed a report that will be included in the Annual Plan & Budget document sent to the board in June.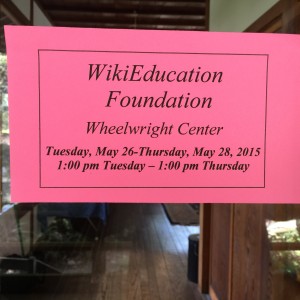 As part of the work on the annual plan and budget for FY 2015–16, the leadership team gathered for a 3-day retreat at the Green Gulch Zen Center in Marin. The team agreed on the details of the plan for next year, and collaborated on the Annual Plan & Budget document. Furthermore, the team engaged in activities to discuss what's working and what isn't in our organization and build relationships.
Renée successfully secured the support of the National Archives in Washington, DC, for the WikiConference USA in October 2015.
Frank started to explore fundraising opportunities for major programmatic initiatives in 2016. As a result, a fundraising pitch has been sent to a potential major donor and is ready for further deployment to other fundraising prospects.
Visitors and guests
Pavel Richter, Open Knowledge
Katie McFadden, Swift River Consulting
David Peters, Exbrook Inc.