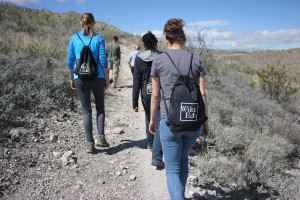 Students at the University of Arizona GeoClub made their first edits to Wikipedia as part of Wiki Ed's program for high-achieving student clubs. The GeoClub is a graduate student group focused on geological sciences, studying subject areas such as tectonics, geochemisty, paleoclimate, mineralogy, and paleontology.
Students at the University of Arizona have unique access to mineral research and information. Through the university's RRUFF Project, more than 3,000 of the known 4,985 minerals are stored on campus. RRUFF oversees the International Mineralogical Association's official mineral list and the American Mineralogist Crystal Structure Database. Student editor Shaunna Morrison has used her access to this information to create the Wikipedia page for Kovdorskite, and to edit pages on Lanthanite, Agardite, and Mixite.
"I've found that editing Wikipedia takes very little time out of my schedule and is much easier than I expected," Shaunna said. "An added bonus: it's really fun!" In just two weeks, 7,000 people have seen pages expanded by the GeoClub.
A group of students also visited Kartchner Caverns State Park, where they took photos of the geological occurrences and toured the underground cave.
The GeoClub is one of the first student groups to participate in the high-achieving student clubs program, and they've been an enthusiastic group interested in seeing the impact they are making on Wikipedia. Other groups participating this spring include Oregon State's Pi Alpha Xi Horticulture Club and the UC Davis BioTech Club.
If you are part of a student program or honor society interested in expanding your philanthropy, digital literacy, research skills, and more, contact samantha@wikiedu.org. We still have slots available for the spring term and would love to hear from you!