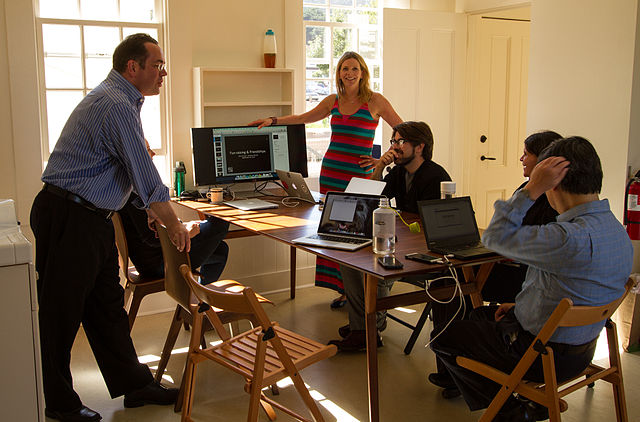 The Wiki Education Foundation values transparency as a means of encouraging evaluation and reflection on our work. Our Quarterly Review meetings are an opportunity for every team member to discuss accomplishments and goals every three months. To be certain that our stakeholders are also aware of these goals and achievements, we have shared the notes and slides from these Quarterly Reports on Meta.
Each Quarterly Review allows our staff to showcase their work, collect feedback from colleagues, and to incorporate ideas from every team member into the work taking place across the organization. Creating the reports offers individuals the time to reflect on their accomplishments and their challenges, and sharing these presentations gives everyone an opportunity to reflect on and contribute to the shared goals of this organization.
In addition to the Communications Quarterly Review already posted, we've recently added notes from three others from last quarter.
During the Digital Infrastructure Quarterly Review, Sage discussed the outlook for our website, our on-wiki user experience, and analytics tools. A key tool currently in development is an Assignment Design Wizard, which will help instructors easily create a custom course syllabus. Looking forward, we discussed improving plagiarism detection and creating a suite of additional course tools, such as student portfolios and course dashboards, which could streamline access to student activity and ease the grading process for instructors. We discussed the future of data collection and analysis, including metrics for measuring article quality for student contributions. Finally, Sage discussed testing the Assignment Design Wizard and deploying the activity feed to monitor student contributions. These tools will constitute a tremendous leap forward in creating and monitoring course content for new instructors.
During the Classroom Program and Educational Partnerships Quarterly Review, Jami discussed the current state and future goals of our Classroom Program. She discussed the work she has done in the past, including goals for number of classes and how she tracks challenges. Jami also explained the differences between the roles of classroom program manager and educational partnerships manager, now that her job will be divided for the fiscal year's second quarter.
Finally, in the Fundraising Quarterly Review, Sara gave us an overview of fundraising goals and outreach efforts, with the intention of introducing her work and challenges to the rest of the staff. She discussed the value of strong internal communications as a way of reducing roadblocks to goal achievement, which is crucial to our organization and to our funders. But she also spoke about the importance of addressing mistakes openly and transparently.
I'm extremely proud of what our organization has accomplished in our first quarter, and look forward to sharing our next round of achievements.
Frank Schulenburg
Executive Director