1. Highlights
The staff moved into our first office, half of a two-story historic 19th century officer's home in The Presidio of San Francisco. We're getting up to speed by adding new furniture daily and are excited to collaborate together in person.
Two staff members have joined the Programs Department. Helaine Blumenthal is the new Classroom Program Manager, and Eryk Salvaggio is the new Communications Associate. Both started on September 29, and spent their first two days in orientation to learn about the Wiki Education Foundation and our programs.
The Wiki Education Foundation received a $1 million grant (over two years) from an anonymous donor. The funds support our educational partnerships strategy to sustainably scale our Classroom Program work through partnerships with universities and academic associations in the United States and Canada.
Our outside technology contractor WINTR began work on the Assignment Design Wizard. The tool will offer a streamlined interface for professors to create and customize lesson plans, and is expected to be finished in early November.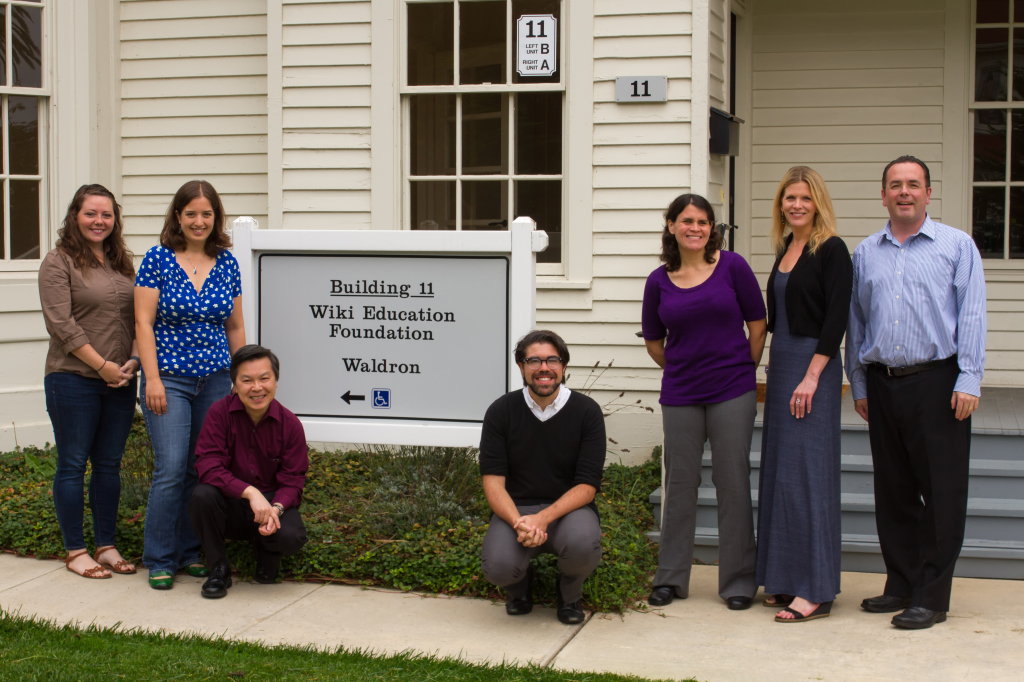 2. Programs
The Programs team welcomed two new staff members on September 29. Helaine Blumenthal is the new Classroom Program Manager and Eryk Salvaggio is the new Communications Associate.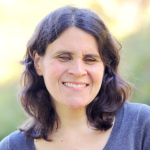 Helaine, a native New Yorker, completed her PhD in European and Jewish history at UC Berkeley in 2012. She has worked as a content developer for online textbooks and has shared her lifelong passion for history as a Graduate Student Instructor at Berkeley. As Classroom Program Manager, Helaine will be developing relationships with instructors, volunteers, and Wikipedia editors to expand our support for program activities. Helaine is responsible for on-boarding and mentoring the instructors who teach Wikipedia classroom assignments and the Wikipedia Ambassadors who support them (both in-person and online). She helps design assignments that make sense for both the student learning and for Wikipedia, and she supports program participants to make sure they have the tools and resources they need to be successful. Helaine is excited to bring her extensive experience in higher education and academia to the Wiki Education Foundation. She has a passion for languages and is an avid (and experimental) chef.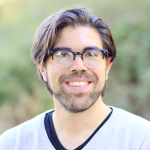 Eryk joins us after completing an MSc in Media and Communications at the London School of Economics and three years writing and teaching English in Fukuoka, Japan. As Communications Associate, Eryk will be responsible for creating communications materials, including literature to assist program participants and blog posts highlighting the stories from the programs. He will serve as our point of contact for the Wikipedia editing community, the media, and others interested in learning more about the Wiki Education Foundation and our program. A New England native, he has a long interest in digital democracy initiatives and communications studies. In his free time, he enjoys hiking and photography.
2.1. Educational Partnerships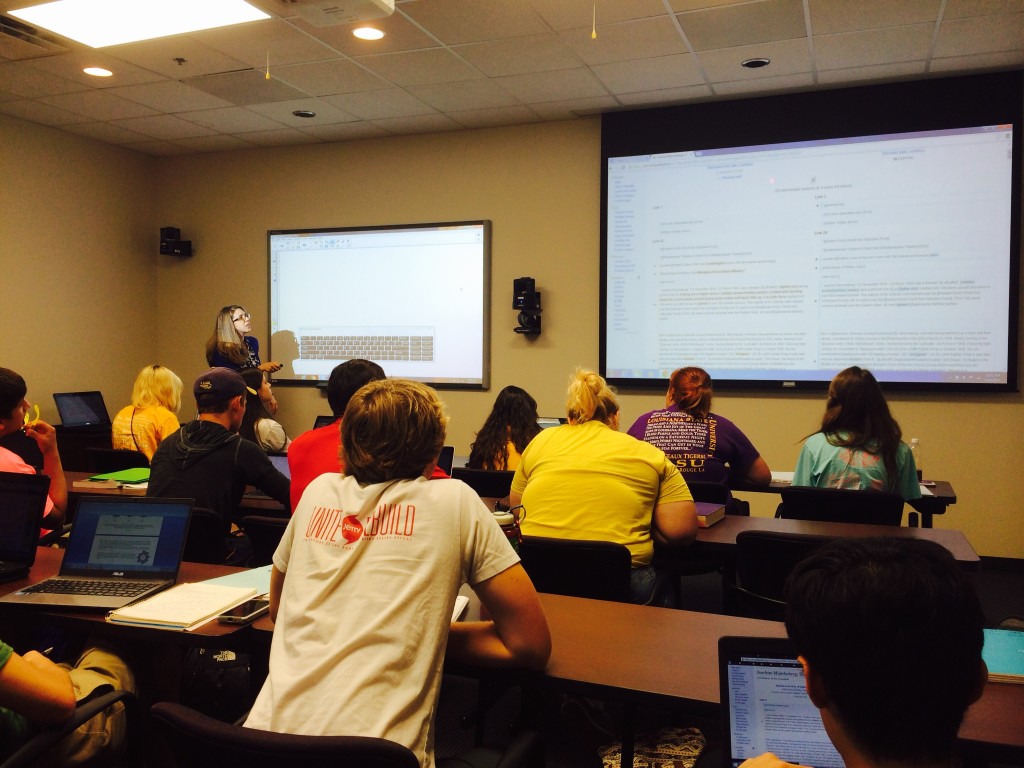 This month, Jami visited the University of California, Berkeley to meet with the Assistant Vice Provost for Teaching and Learning, the Chief Education Technologist, the Development Coordinator for the Vice Chancellor of Education, a Program Coordinator at the university library, and Dr. Victoria Robinson, who has integrated Wikipedia assignments into her courses with support from Wikipedia Ambassador Kevin Gorman. The team at Berkeley is interested in developing a long-term solution to providing guidance and expertise for teaching with Wikipedia to instructors in all departments. The goal of the meeting was to identify potential partnerships and ways Wiki Ed can expand on campus while maintaining a high level of support for program participants. It was a great first step in developing relationships and identifying possibilities for moving forward.
Jami also visited Louisiana State University in September to meet with Communication Across the Curriculum staff, including Wikipedia Ambassadors Rebecca Burdette and Becky Carmichael. The staff at LSU have supported 22 courses since the spring 2011 term, and they are working with 5 courses during fall 2014. We are working to determine the best way to expand their support to bring even more LSU students into the Classroom Program, starting this month by planning a series of on-campus Wikipedia workshops in November. We will spend two days presenting sessions on designing Wikipedia assignments, introductions to Wikipedia editing, targeted research, how to find content gaps, and smaller sessions about the Wikipedia courses at LSU.
2.2. Classroom Program
Current status of the Classroom Program (fall term 2014) in numbers, as of September 30:
84 Wiki Ed-supported courses have Course Pages (39 or 46% are led by returning instructors)
1,500 student editors are enrolled
Status: All courses are underway, and many have already introduced Wikipedia assignments. 496 student editors have completed the online training, and some instructors are still developing course pages and enrolling student editors.
The fall 2014 term has started. Student editors are creating user accounts, enrolling on course pages, completing the online training, and starting sandboxes. After maintaining the Classroom Program at approximately 65 courses over the last few terms, we feel we have the resources and capacity to expand the program while maintaining existing levels of support. We are excited to see more student editors engage with Wikipedia, and we are committed to giving instructors the resources they need to design smart Wikipedia assignments (see the "Digital Infrastructure" section below) that fill content gaps on Wikipedia.
We expect 25 more courses this term than in the spring, and we're excited to have a new Classroom Program Manager and two Wikipedia Content Experts to support this higher number of program participants.
2.3. Communications
Communications work in September focused on the development of Wiki Education Foundation editions of many of the brochures. New editions of Editing Wikipedia, Evaluating Wikipedia, Illustrating Wikipedia, Instructor Basics, Case Studies, and the Syllabus are all available on Wikimedia Commons and in print from the Wiki Education Foundation. Edits to the content brought the text to be more in line with English Wikipedia-specific content, as the Wikimedia Foundation versions of the brochures were designed to be appropriate for global audiences on many language Wikipedias. We also finalized the order of organizational printed materials, such as letterhead, envelopes, notecards, and business cards, using the visual identity for Wiki Ed created by David Peters of EXBROOK.
Jami Mathewson and LiAnna Davis co-authored an article in the September-October issue of Footnotes, the magazine of the American Sociological Association. The article describes ASA's Wikipedia Initiative, and highlights students' impact on sociology articles on Wikipedia over the last three years of the initiative. The article starts on Page 17 of the PDF.
Blog posts:
News coverage:
2.4. Digital Infrastructure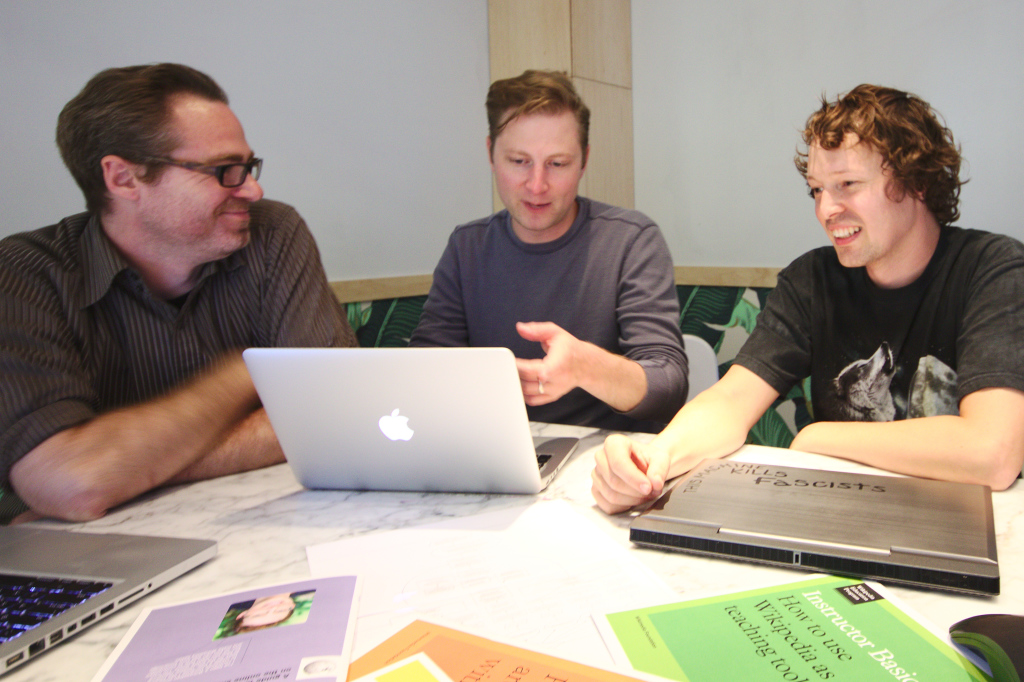 This month, we broke digital ground with digital creative company WINTR on the Assignment Design Wizard, our forthcoming tool to help instructors design and customize Wikipedia assignments to fit their courses. Sage and the WINTR team began by identifying the key problems we want to solve — the current process for building a course page using our sample syllabus is too rigid, too tedious, and not very easy to use. From there, Sage and the development team created a prioritized list of requirements — the "product backlog" — that represents all the features we'd like to eventually build into this tool. Each requirement takes the form of a "user story": a short statement, from the perspective of someone using the tool, of what they want to be able to do.
In late September, the WINTR team created the first high-fidelity mockups for the Assignment Design Wizard, which give a preview of what this tool will look like and how it will work. You can follow the development process as we go using our virtual project whiteboard. If you have ideas for what you'd like to see from this tool, or feedback on the progress so far, please get in touch with Sage. By early October, we expect to have a live prototype so that instructors and other Wikipedians can test the tool at every stage as it gets built.
3. Finance and Administration / Fundraising
3.1. Finance and Administration
Expenses for the month is $122,282 versus plan of $90,185, primarily due to finally getting into the office space and catching up on setup cost. Also start of WINTR contract that had also been delayed.
Year-to-date expenses are $482,962 versus plan of $553,046. Again difference primarily due to delay in getting into office resulting in savings in occupancy expenses and delayed expenditures in one-time office setup cost.
The big news this month was receiving keys to our first office, on Officer's Row in the Presidio of San Francisco, at the end of September. In the final week of the month, our office was sparsely furnished but bustling with activity. While we are still in the process of acquiring and setting up office furniture, staff have donated folding chairs and card tables to fill the gap, and meetings have happened with everyone sitting on the floor.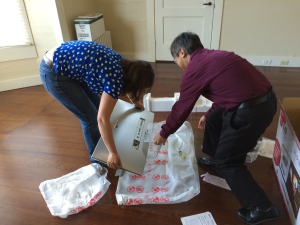 We've also been slowly discovering all the office basics we take for granted (a dish drainer, trash bags, packing tape, etc.), and the last one into the office usually has been texted a list of things to bring from home for that day that people already in the office have discovered we need!
Our top priority, however, was the espresso machine, which is up and working and keeping our staff awake and happy (although for the first week, the espresso had to be consumed from coffee mugs someone had brought from home). Since our office is a historic, 19th century officer's home, we're also taking care to treat it with respect despite the movement of furniture, boxes, and feet.
3.2. Fundraising and Partnerships
In September, the Wiki Education Foundation received a grant in the amount of $500,000 from a donor, who wishes to remain anonymous, in support of our work to expand the sustainability and scalability of the Classroom Program activities, including partnerships with universities and academic associations in the United States and Canada.
Also in September, with the help of communications consultant Jay Walsh and design strategist David Peters (EXBROOK), we have started to develop content and design of printed materials about the Wiki Education Foundation. These materials will provide general information on the organization to inform the public about our work and mission in general, acquaint partners and potential funders with the organization's work and objectives, and conform with our strong commitment to transparency as a 501(c)3 non-profit organization.
We undertook a comprehensive assessment of financial needs this fiscal year, and solidified a short-term plan and timeline of fundraising (and friend raising) activities tailored to meet these needs. We continue to work on a long-term sustainability strategy which will be informed by future fundraising efforts.
As we establish ourselves in the foundation's first office, we are also putting into place systems, processes, and best practices for fundraising and other operations.
We initiated general outreach to potential funders and partners to inform them of the Wiki Education Foundation's work and explore opportunities for collaboration and support.
4. Board
In a phone meeting on September 29, the board established an audit committee and appointed Karen Twitchell, Karen George, and P. J. Tabit as its first members. The committee will oversee the integrity of the Wiki Education Foundation's financial statements and reporting process, its accounting policies and procedures and internal control systems, the annual independent audit, and Wiki Ed's compliance with legal and regulatory requirements. Karen Twitchell, who has been in financial executive positions for more than 30 years, will serve as the inaugural chair of the audit committee.
5. Office of the ED
Current priorities:
Making the new office a productive environment

Planning our pilot with high-achieving students
Preparing for the in-person board meeting in November
In early September, the senior leadership team of the Wiki Education Foundation sent the first draft of the 2014–15 annual plan off to the board. The plan is split in two parts. The first section looks back at the work achieved between July 2013 and June 2014, the second part develops a picture of what the Wiki Education Foundation is planning to achieve until the end of June 2015. On September 29, the board provided feedback on the draft. We're planning to deliver the second and final version to the board in mid-October. This will be the first time that our organization has developed a fully fleshed out annual plan that sets the direction for the upcoming year.
On September 12, Frank Schulenburg spoke at the conference "Digital Transformation – Impacts on Research, Science, and Teaching" in San Francisco. The event had been organized by the Georg-August University Göttingen and was attended by the university's president Ulrike Beisiegel, vice president Norbert Lossau, and about 50 alumni of the University of Göttingen. Frank's presentation "Wiki Education – a Changing Paradigm in Education" introduced the conference participants, most of them researchers and scientists at U.S. universities, to the idea of teaching with Wikipedia. The second day of the conference concluded with a formal reception at the German Consulate General.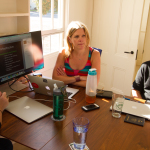 On September 30, we conducted the fourth quarterly review this year with Sara Crouse reporting on her fundraising work. Quarterly reviews increase our accountability towards internal and external stakeholders and they keep the Wikipedia community informed about ongoing development. The review sessions also enable everybody on staff to learn about the work done in other areas. This is a crucial precondition for people from different parts of the organization not working in isolated silos and for maximizing alignment between departments. With this in mind, Sara also gave a general introduction to fundraising for a non-profit organization, and provided information about the early history of our programmatic activities for our newest staff members.
6. Visitors and Guests
David Peters, EXBROOK
Jay Walsh, communications consultant
Floor Koudijs, Wikimedia Foundation