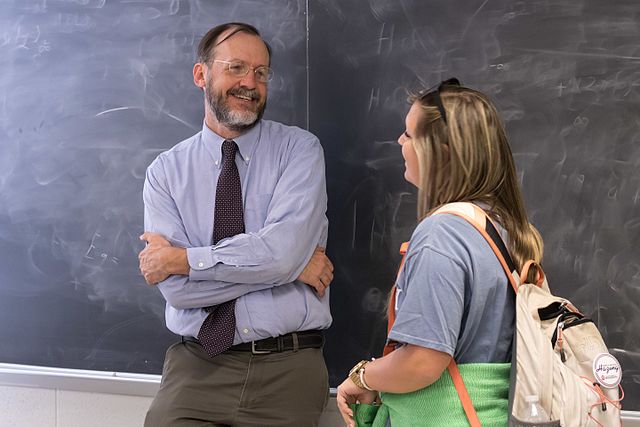 Last week, Executive Director Frank Schulenburg and I visited the University of Mississippi, hosted by Dr. Robert Cummings (also a Wiki Ed board member) and the Department of Writing and Rhetoric.
We presented to faculty at a luncheon about why Wikipedia matters to students and instructors alike. Frank recalled growing up without access to printed encyclopedias and his joy when he discovered Wikipedia. Frank, like so many people eager to expand their minds, now has access to a wealth of information beyond his childhood dreams. Our students are often motivated by this opportunity to reach the inquisitive who may not have the physical access or required skills to understand academic research. Since students are writing about important topics already, they find meaning in bringing this knowledge to others through open educational practices.
Attendees were most interested in the content gaps plaguing Wikipedia and its readers. Their students—whether in a Biology, History, or Women's Studies classroom—fill these gaps, making Wikipedia more complete and equitable. Take the spring 2016 students, who added over 3.73 million words to Wikipedia. During the busiest month in the program, students added 4.6% of academic content to English Wikipedia. That's a significant impact, and faculty are excited to engage their students in such a productive open educational practice.
Students are cognizant of the value their contributions bring to the world. At Ole Miss, we had the pleasure of joining Dr. Cummings in his "Writing for Wikipedia" course. At this point in the term, students have collaborated to expand a stub article. They shared their observations about the value they're adding to the world, and one student feels a duty to catalog information for readers, even if she's not interested in the topic herself. Higher education can be reserved for a privileged few, and these students want to help others overcome those barriers and document knowledge on an accessible platform.
At this stage in Dr. Cummings' process, students are selecting individual topics to research and expand. I shared my own story about why I'm interested in improving Wikipedia's coverage of women and women's studies, and I encouraged students to explore topics that engage them outside of the classroom. I rarely have the opportunity to observe our students at work, and I'm elated to see the work these bright students add to the encyclopedia by the end of the term.