Every week we look at Wikipedia articles that student editors have created or improved. This week, we're looking at articles about women and art.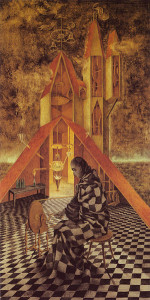 We know that Wikipedia has a persistent content gap when it comes to representing women. Last year, 600 participants added 101 female artist pages to Wikipedia in response to calls for the Art and Feminism Edit-A-Thon organized by Siân Evans (Art Libraries Society of North America's Women and Art Special Interest Group), Jacqueline Mabey (The office of failed projects), Michael Mandiberg, Laurel Ptak, Richard Knipel and Dorothy Howard (Metropolitan New York Library Council) of Wikimedia NYC. The event is happening again this weekend (March 7-8), for International Women's day.
This month is also Wiki Women's history month! So, this month, we'll be sharing student work from a few courses with similar goals.
From Muhlenberg College's Women and Art course, taught by Dr. Margo Hobbs:
Learn more about Mexican artist Frida Kahlo, American abstract expressionist Helen Frankenthaler, or the surrealist-anarchist painter Remedios Varo.
Learn about Minnie Evans, an African-American folk artist who, at age 43, began drawing her dreams on paper bags. She eventually had an exhibition at the Whitney Museum.
Read about the Dutch still life painter memorialized by no less than 11 poets, or the girl from a Renoir painting who had quite a career of her own.
Discover the fascinating life of an African-American sculptor who left the U.S. for Rome just after the Civil War — and ended up sculpting a president. Or the French feminist filmmaker whose work pre-dates and helped inspire the nouvelle vague.