Every week we look at some compelling Wikipedia articles created or improved by student editors. This week is for film and theater buffs.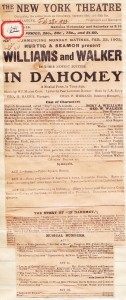 From UMass Amherst's History of Film I course, taught by Dr. Demetria Shabazz, comes the story of the first film shot entirely in Hollywood, and a sad reminder of the racial bias of the era. Elsewhere, you can read about George Walker and his role in the first full-length musical written and played by blacks ever performed on Broadway (and view the original program, thanks to a student's upload).
Articles that fill in content gaps on Wikipedia on history of black vaudeville actors include Sam Lucas and Old Corn Meal. Or read about Amos and Andy actor and pioneering director Spencer Williams. Cheyenne silent film actress Minnie Devereaux's article sheds light on the struggles of aboriginal peoples of Canada.
Read about the silent film director who said, in 1916, "One of these days, men are going to get over the fool idea that women have no brains and quit getting insulted at the thought that a skirt-wearer can do their work quite as well as they can."
Another student editor expanded the story of the first and only woman director of her era to run her own studio. The page for A Natural Born Gambler got a cool boost when a student added this 1916 advertisement for the film to the article.
Finally, from Dr. Amanda Klein of East Carolina University's History of Film from 1895 to World War II course, read about the military training tool made by an experimental filmmaker that some now call "a masterpiece of filmmaking."