Climate solutions are proven, powerful, and effective, but they aren't happening at the scale necessary to curb climate change quickly. Why? We need a mindset shift on a collective level in order to cut emissions across all sectors. We also need to communicate to the public and policymakers that we have everything we need to create an equitable and just future.
Wikipedia has a proven track record for affecting collective behavior across a wide range of sectors. Averaging 18 billion page views per month, it is the 5th most visited website in the world. And Wikipedia readers are not just students doing homework or friends settling an argument. Research shows Wikipedia content influences tourism, scientists, and even judges' legal rulings. That's why it's vital that we take part in updating and correcting Wikipedia's content. Let's leverage that power for the climate.
Sign up for our newsletter to learn more!
See our open Wikipedia editing courses here.
The Wiki Scientists course

Wiki Education invites subject-matter experts to participate in hands-on workshops and 6-week virtual courses as they learn how to edit Wikipedia. We take a deep dive into Wikipedia's coverage of climate solutions and add high-quality information to Wikipedia to inform the public with potentially life-changing knowledge.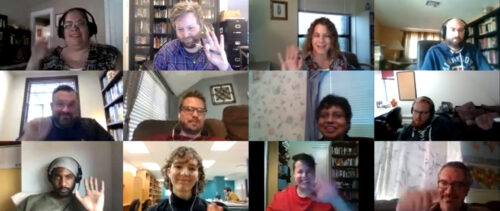 Why Wikipedia?

Only 9% of Americans are dismissive of climate change. But public support (or rejection) of climate mitigation strategies is not based on science as much as it's based on existing cultural schemas and personal values. Non-partisan spaces, like Wikipedia, are invaluable opportunities for people to learn and participate in discourse about climate science and solutions. These public spaces are the true catalysts for changing mindsets to advance climate action. With a worldwide reach unlike that of any other public resource, Wikipedia presents the best opportunity to introduce the masses to climate solutions.
Our vision is that all people understand:
Climate change is real and immediate.
The impacts are catastrophic, especially for humanity.
There is urgency to act now.
We already have solutions for a more equitable future.
The public trusts Wikipedia—and for good reason. Wikipedia is free from advertising or the influence of private interests. Its open access origins create the possibility of democratizing knowledge, and its community has worked for more than 20 years to manage mis- and disinformation. Wikipedia is a neutral common ground for contextualizing the effects of climate change in peoples' everyday lives and giving them hope and roadmaps for solutions.
Who is this course for?

We're looking for subject-matter experts who want to build their climate network while advancing public knowledge. We want this course to have an atmosphere that is hopeful and regenerative. You don't need to have knowledge of specific climate solutions, but a research background and passion for advancing climate action is a must!
This course is for you if:
you want to dive deep into a particular climate solution related to your expertise
or you want to communicate about a solution you're already working on to a much larger audience
Our team excels at helping you find topics that fit your niche interests but also content the public is eager for.
What will you achieve?

An audience of millions. Few other actions you take for the climate can have an effect like a Wikipedia page can. Even adding one sentence about climate solutions to an existing page with a lot of traffic can reach millions. Imagine the possibilities!
Membership in an enriching, hopeful community of practice. Develop professional connections across fields while incorporating climate action into your life in a tangible way. Wikipedia editors and a close-knit group of 10-20 peers will commune with you each week to share expertise, stay accountable to our goals, and inspire hope in each other.
Wikipedia expertise. Create your first Wikipedia article or brush up on your existing Wikipedia-editing skills. You'll complete the course able to continue this important work both through your own editing and through organizing local projects, embedding Wikipedia know-how within your institution or job.
And more!
Sign up for our newsletter to receive updates about upcoming courses and engagement opportunities. Email partner@wikiedu.org with questions.