"To bring the power of the many — in knowledge, in experience, in perspective — together helps build something greater than any one person could do on their own."
When you want to learn about a scientist, activist, politician, artist, or anyone who's life story interests you, a quick Google search will probably take you to her Wikipedia biography. But what if she doesn't have one?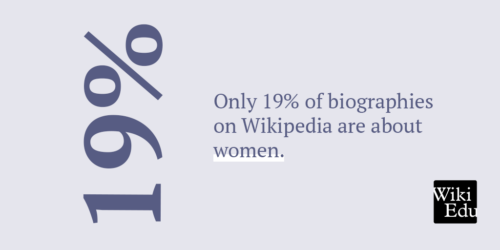 With its wide availability, Wikipedia presents a unique chance to democratize knowledge about notable figures in U.S. history. Yet only 19% of Wikipedia biographies are about women. According to Wikipedia's notability and sourcing guidelines, in order to warrant a biography a person must receive coverage in secondary sources. But women are covered less in the media and journalists approach them less often for interviews. It's cyclical: When it comes to public perceptions of whether someone is important, not having a Wikipedia biography weighs into that judgment. While women face a variety of barriers to inclusion on Wikipedia, the biggest barrier remains the simplest one: if no one takes the time to create the Wikipedia biography, it won't exist.
Learn how to share women's stories on Wikipedia
To help combat Wikipedia's glaring gender gap, Wiki Education is running another Women in Red Wiki Scholars course. For 6 weeks, we'll run weekly Zoom classes with an in-depth, structured training about how to contribute to Wikipedia. Wiki Education will facilitate collaborative work among participants, providing guidance as they improve and create pages related to notable women or people from other historically excluded groups.
Cost
Individual rate: $300
Group rate: Enroll with one or more people for our group discounted rate of $250 each
Financial aid may still be available, and interested parties should request aid via the application
Our course can help you:
Create your first Wikipedia article or brush up on your existing Wikipedia-editing skills.
Share knowledge with the public, especially by using sources unavailable to the volunteer editing community.
Participate in an enriching, open community of practice among Wikipedia editors.
Elevate the visibility of your collections by guiding museum professionals and archivists in identifying the untold stories from their institutions' own collections to bring to a larger audience.
Teach critical media literacy to students by joining our free Wikipedia Student Program. Once you complete the Wiki Scholars course, you'll have a better understanding of how Wikipedia works and how Wiki Education's tools can help you execute an effective assignment.
Prepare to design local Wikipedia projects at your institution. By embedding Wikipedia know-how within your institution, you'll complete the course able to continue this important work both through your own editing and through organizing local projects.
And more!
Wiki Education's experience
Wiki Education has 11+ years of experience training 97,000 students and faculty how to add content to Wikipedia, bringing academic knowledge to the masses and improving 109,000 pages across disciplines. Our team is poised to help new users share women's stories with the world.
In 2012, Jennifer Doudna helped make one of the most remarkable breakthroughs in biology — the CRISPR/Cas9 gene editing system, which changed editing genomes from science fiction to science. While Doudna's Wikipedia biography looked substantial, a lot of her research was missing or paired with the work of her male colleagues. In 2018, one Wiki Scholar transformed the page so that it emphasized Doudna's scientific achievements.
Then, on October 7, 2020, Jennifer Doudna was awarded the Nobel Prize for her work on CRISPR. Thanks to the scholar's additions, the article explains the revolutionary potential of CRISPR and the role Doudna played in this research. Had she not added this content, millions of readers who came to Doudna's Wikipedia biography to learn why she was awarded the Nobel Prize might have left with more questions than answers. This work reminds the public of women's scientific contributions, inspiring new generations to pursue careers in science.
ENROLL NOW
Course Dates
August 15–September 23, 2022
Class Meeting Time
Mondays OR Thursdays from 10:00 AM – 11:00 AM Pacific (1:00 – 2:00 PM Eastern)
Application Deadline
August 10, 2022