"Learning how to edit and create Wikipedia pages was such a joy because my efforts were put towards a cause I deeply care about." *
In Wiki Education's biography-writing virtual professional development course, you'll meet once a week online with a Wikipedia writing group to make Wikipedia more inclusive and complete of all stories.
Background: What is notability?
When the public wants to learn about a scientist, politician, entertainer, or activist, they look for a biography on Wikipedia. If the person doesn't have a Wikipedia article, what does that mean? And what does it mean if there was an article but it was deleted?
These questions become more difficult when you consider that several groups are underrepresented on Wikipedia. Only about 17% of biographies are about women, for example. Recently there have been news stories about women whose accomplishments make them notable within their fields, but not "notable" on Wikipedia. In our online course, you'll learn why that is through discussions of Wikipedia's "notability" guidelines. You will also apply them to create a new biography of someone whose story is not yet represented on Wikipedia.
Skills you'll gain
Let's dive into what notability means and how you can navigate the complex, community-led policies that regulate Wikipedia's content.
This is a networking opportunity to collaboratively write and research with scholars across institutions and disciplines. Pulling together Wikipedia experts, detailed training, and hands-on guidance, this is the only skills-development course of its kind worldwide. Participants join the online community of Wikipedians and make Wikipedia's knowledge better for the benefit of all.
Register by May 31st
Timing: Course begins the week of June 10th, 2019 and ends the week of July 29th

Course length: 8 weeks

Time commitment per week: 1 hour weekly collaborative meeting; 2 additional hours of independent work
Cost: $800
Goal: Create or improve one biography
REGISTRATION LINK COMING SOON
"It was incredibly satisfying to help create a page for someone I so respected." *
Testimonials & Impact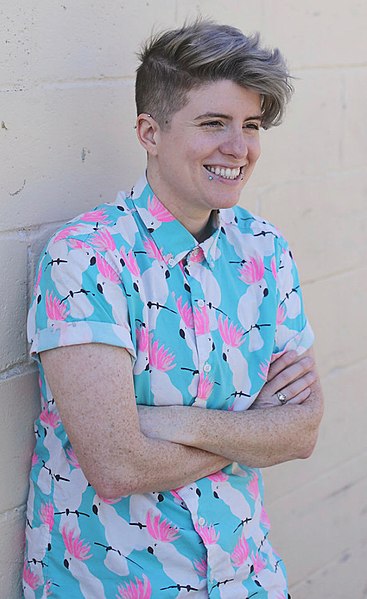 Cassius Adair discovered that the Wikipedia biography about a prominent trans author didn't feature an up-to-date photo. He went about changing that. Read more…
---
When Samantha Kao learned that roughly 80-85% of Wikipedia editors are white men and only about 17% of Wikipedia biographies feature women, she knew she had to do something. Read more…
---
Karen Kwon saw our course as an opportunity to act as a counterbalancing force to the ways women (specifically in STEM fields) are discredited. Read more…
---
Dr. Jenn Brandt made sure Margaret Atwood's biography represented the feminist implications of her work. It's now deemed to be among the top quality articles on the site. Read more…
---
Dr. Claire Jarvis noticed that a prominent chemist was missing a biography, so she created one for her. Read more…
---
Questions?
If the above course time doesn't work, please fill out the form below to receive updates on future course opportunities. Direct any questions here or to scholars@wikiedu.org.