Wiki Education invites disability studies scholars, medical practitioners, and other subject-matter experts to participate in an 6-week virtual Wiki Scientists course as they learn how to edit Wikipedia. In this course, we'll take a deep dive into Wikipedia's coverage of healthcare for adults with developmental disabilities and add high-quality information to Wikipedia in this topic area, informing the public with potentially life-changing knowledge. From January 16 – February 20, 2024, WITH Wiki Scientists will attend a series of virtual classes facilitated by Wiki Education's Wikipedia experts.
Wikipedia has a proven track record for affecting collective behavior across a wide range of sectors. Averaging 18 billion page views per month, it is the 5th most visited website in the world. And Wikipedia readers are not just students doing homework or friends settling an argument. Research shows Wikipedia content influences tourism, scientists, and even judges' legal rulings. That's why it's vital that we take part in updating and correcting Wikipedia's content. Let's leverage that power to improve healthcare accessibility for adults with developmental disabilities, educating everyone from journalists to policymakers to the medical community.
The WITH Foundation is committed to improving healthcare service delivery for adults with developmental disabilities. That's why WITH has sponsored all seats in this online synchronous course to improve high-value Wikipedia pages about disability healthcare. Selected applicants will participate in an in-depth, structured Wikipedia training, giving you the dedicated time and support you need to join the open knowledge movement. We encourage adults with developmental disabilities to apply and/or spread the opportunity in your networks.
We're excited to work with new organizations in this mission and are grateful to the WITH Foundation for their generous support as we make Wikipedia better together, for all. If you're interested in getting involved, please complete the registration form.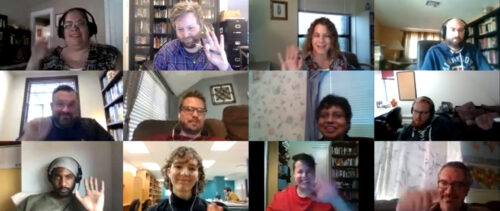 Who is this course for?

We're looking for subject-matter experts who want to advance public knowledge about healthcare needs for adults with developmental disabilities. Our team excels at helping you find topics that fit your niche interests but also content the public is eager for. As long as you have scholarly ties to disability studies, medicine, and/or an interest in studying this intersection, you should apply to this course. Prior Wikipedia editing experience is not required or expected, as this course is suitable for newcomers.
What will you achieve?

Educate an audience of millions. Few other actions you take can have an effect like a Wikipedia page can. Even adding one sentence about healthcare access for adults with developmental disabilities to an existing page with a lot of traffic can reach millions. Imagine the possibilities, especially in reaching the medical community!
Membership in an enriching, hopeful community of practice. Develop professional connections across fields while educating the public in a tangible way. Wikipedia editors and a close-knit group of 15-20 peers will commune with you each week to share expertise, stay accountable to our goals, and inspire hope in each other.
Wikipedia expertise. Create your first Wikipedia article or brush up on your existing Wikipedia-editing skills. You'll complete the course able to continue this important work both through your own editing and through organizing local projects, embedding Wikipedia know-how within your institution or job.
And more!
Email partner@wikiedu.org with questions.
Cost
$ 0
scholars, scientists, and medical practitioners
ENROLL NOW
Course Dates
January 16–February 20, 2024
Class Meeting Time
Tuesdays from 10:00 – 11:00 PM Pacific (1:00 – 2:00 PM Eastern)
Application Deadline
December 22, 2023