Wikipedia is the most popular source of health information worldwide. Doctors, patients, and policy makers consult it 2 billion times every year. It's vital that the information they find there is accurate, up-to-date, and complete. But ensuring that the most popular pages reflect the latest research and the most pressing health news is a big job. With more than 7.5 million medical-related Wikipedia articles, we need all the help we can get.
The Wiki Scientists course

Wiki Education is seeking scientists, medical professionals, faculty, and medical profession students to participate in a 6-week virtual course as they learn how to edit Wikipedia around topics related to reproductive, women's, and postpartum health. Join us as we take a deep dive into Wikipedia's medical content, guiding you and other medical scholars in adding high-quality information to Wikipedia to inform the public with potentially life-changing knowledge. From March 11–April 19, 2024, Medical Wiki Scientists will attend a series of virtual classes facilitated by Wiki Education's Wikipedia experts.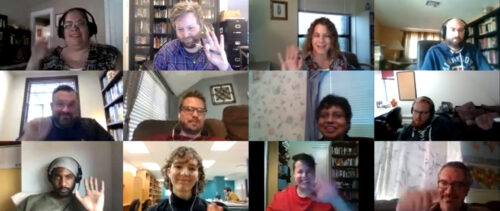 Why Wikipedia?

The world uses Wikipedia to learn about every subject, and medical content is no exception. Patients, family members, and other caregivers use Wikipedia to understand and make health decisions. Health care practitioners use it to refresh their understanding and communicate complex terms and diagnoses to their patients. One study found medical content is accessed on Wikipedia more than the websites of the NIH, WebMD, Mayo Clinic, NHS, WHO, and UpToDate. And another found Wikipedia's readers visit medical content more frequently than other topic areas, and they are more likely to hover over footnote links to check the citation's source. Wide readership, instant availability, and source verifiability makes Wikipedia one of the most powerful vehicles for reaching patients, practitioners, and caregivers.

Articles pertaining to human health on Wikipedia are subject to more rigorous sourcing standards than any other topic. In an effort to ensure Wikipedia's medical content is not skewed by one outlier study but instead reflects scientific consensus, the Medical Reliable Sources standard (MEDRS) prioritizes review articles and other meta analyses from scientifically rigorous publications over original research. PCORI-funded Systematic Reviews are ideal sources for Wikipedia's medical content. 
Who is this course for?

We're looking for scientists, medical professionals, medical school faculty, and medical school students who are eager to connect with patients and other readers through Wikipedia's vast network of medical articles. We'll prioritize accepting applicants with specialties in reproductive health, women's health, maternal-fetal medicine, or postpartum care.
Participants will qualify for the $200 stipend if they use PCORI's completed systematic reviews to improve related Wikipedia articles.
What will you achieve?

Share knowledge with millions, especially by sharing paywalled sources unavailable to the volunteer editing community that meet Wikipedia's high sourcing standards for medical content.
Create your first Wikipedia article or brush up on your existing Wikipedia-editing skills.
Participate in an enriching, open community of practice among Wikipedia editors and a close-knit group of 10-20 peers that meet each week.
Teach critical media literacy to students by joining our free Wikipedia Student Program. Once you complete the Wiki Scholars course, you'll have a better understanding of how Wikipedia works and how Wiki Education's tools can help you execute an effective assignment.
Prepare to design local Wikipedia projects at your institution. You'll complete the course able to continue this important work both through your own editing and through organizing local projects, embedding Wikipedia know-how within your institution.
And more!
Cost
$ 0
scientists, medical professionals, and medical profession students
ENROLL NOW
Course Dates
March 11-April 19, 2024
Class Meeting Time
Mondays from 10:00–11:00am Pacific (1:00–2:00pm Eastern)
Application Deadline
February 9, 2024