George Heard is a professor in the department of chemistry and biochemistry at the University of North Carolina Asheville.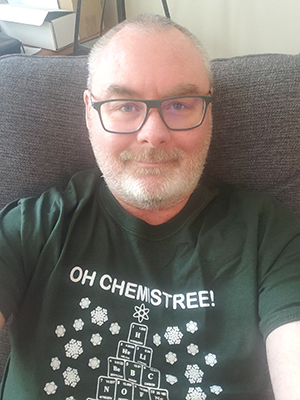 Here is an excerpt from an email a student sent me at the end of my course this semester.
"Wikipedia is way cooler than I thought, and to have been able to contribute to a chemical article and publish it this semester was definitely a game-changer (just googled my article wondering if it was all real and yes, our work is definitely on the web!)".
This struck a chord with me – I have taught this student in several classes over their academic career, and they have submitted a number of assignments to me – homework assignments, exams, lab reports, and while they all have a meaning, ultimately they have been private and transient. Do the work, hand it in, receive a grade, hopefully learn something, move on to the next assignment.  In this final semester before they graduated and set out to make their mark on the world, they have had an opportunity to contribute to global information in a meaningful way, and it has stuck.
Incorporating a Wiki Education assignment into my class gave all my students an opportunity to produce a piece of work that is not only permanent, but accessible.  Not only that, but the better the quality of the edits, the longer they are likely to persist – I have just completed the fourth year in which I have incorporated Wiki Education assignments in my class, and one student from my first class is still in touch with me and points out that their Wikipedia edits are still there from changes made in 2018.
There have been challenges, and sharing these challenges with students in an open fashion has deepened the experience.  An experienced Wikipedia editor leaving messages on my talk page and on the pages of my students' work sparked conversation about the concept of Wikipedia as a community and a global resource, and the passion that some users had for Wikipedia.
I first became familiar with Wiki Education from a booth at the American Chemical Society National Conference in 2017. At the time, I had been charged with creating a research capstone course for Chemistry majors who were pursuing a B.A. degree and so were not engaged in laboratory-based research.  My colleagues were interested in students having a literature intensive course with a measurable outcome, along the lines of a literature-based thesis.  After some discussion with Wiki Education staff, I added a Wikipedia assignment to the first iteration of CHEM 409, Chemistry Literature Research Seminar.  The 12-week Wiki Education timeline aligned well with the learning objectives of the Department of Chemistry and Biochemistry at UNC Asheville.
Describe and analyze the chemical and physical structure and reactivity of matter, the mathematical models describing matter, and the methods of characterizing and measuring properties of matter
Demonstrate problem-solving and self-directed learning skills by evaluating a research topic in chemistry, completing an extensive search of related, published literature, and completing a high-quality multi-semester research project that results in a written and an oral report summarizing the project
The Wiki Education assignment provided a structure and opportunities for multiple levels of reflection along the way to creating content for Wikipedia pages relating to the chemical and physical structure and reactivity of matter, and each student could learn self-directed learning skills in selecting appropriate sources, drafting content, responding to peer review and ultimately publishing and reacting to public feedback in a global forum.
The majority of student feedback on Wiki Education has been positive. Students complete my course with a new understanding and appreciation of Wikipedia and most importantly, a feeling that their time in class has not been wasted. The level of support I get from the Wiki Education staff and other Wikipedians, as well as the comprehensive website and documentation prepared by Wiki Education, makes it easy to get started and importantly to monitor my students progress in the assignment.
Image credit: Michael Tracey, CC0, via Wikimedia Commons; George Heard, CC BY-SA 4.0, via Wikimedia Commons